Dr Tasnim Munshi - Programme Leader
Tasnim has full responsibility for the management of all teaching provision within the School of Chemistry. Tasnim's specialisms are co-ordination chemistry, spectroscopy, and inorganic chemistry.
Academic Staff List
Welcome to BSc (Hons) Forensic Chemistry
Forensic chemistry is the application of scientific knowledge and investigation to law enforcement. From identifying substances to analysing crime scenes, the skills of a forensic chemist often play a vital role in criminal investigations.
The course provides students with the opportunity to develop the skills of a professional forensic chemist, including laboratory examination, report writing, crime scene analysis and courtroom presentation. With a broad spectrum of modules, it is possible to specialise in areas such as DNA analysis, biological chemistry, or nuclear forensics.
The School of Chemistry takes a research-centred approach to teaching and learning, and students have the chance to work closely with leading academics on collaborative research projects.
How You Study
The first year offers a solid foundation in chemistry, including laboratory work and mathematics and statistics, as well as the principles of forensic science and crime scene investigation. In their second year, students go on to explore advanced aspects of forensic chemistry and are introduced to key areas of advanced crime scene methods and trace evidence, before tailoring the course to match their interests with a range of modules in their third year.
The course includes lectures, seminars, laboratory-based practical classes, and lectures from visiting scientists.
What You Need to Know
We want you to have all the information you need to make an informed decision on where and what you want to study. To help you choose the course that's right for you, we aim to bring to your attention all the important information you may need. Our What You Need to Know page offers detailed information on key areas including contact hours, assessment, optional modules, and additional costs.
An Introduction to Your Modules
---
† Some courses may offer optional modules. The availability of optional modules may vary from year to year and will be subject to minimum student numbers being achieved. This means that the availability of specific optional modules cannot be guaranteed. Optional module selection may also be affected by staff availability.
CHM1002M
Level 4
2023-24
This module aims to provide a breadth core understanding of the main chemical principles behind the chemistry of elements, systems in equilibrium and chemical reactivity, with special emphasis in basic organic reactions. Students will have the opportunity to learn basic concepts about elements and their main periodic properties and how some of these elements can be combined to produce molecules. Organic molecules will be used as an example to explain reactivity and how chemical structure can condition molecular properties. Energy transfers are also studied to understand the key role they play in chemical and physical transformations and how systems in equilibrium are affected by these.
Core
CHM1003M
Level 4
2023-24
This module aims to introduce core chemistry concepts with an emphasis on chemical change. Movement and interaction of molecules and chemical kinetics are key physical chemistry topics covered and applied to chemical reactions of both organic and inorganic substances. The use of empirical data to develop and support laws, theories and models will be covered and how chemical kinetics can be used to develop reaction mechanisms. An introduction to crystallography and absorption spectroscopy is covered.
Core
FRS1051M
Level 4
2023-24
This module is concerned with the skills required to protect, record, process and interpret a crime scene. Emphasis is placed on the role of crime scene investigation in the forensic process. The process of crime scene investigation is examined from scene preservation and recording (e.g. sketches and photography) to evidence recovery, packaging and documentation. The need for avoidance of contamination of the crime scene and for the subsequent continuity and integrity of the recovered evidence form an integral component of the module.
Core
CHM1004M
Level 4
2023-24
This module aims to provide students with an overview of the application of chemistry in commercial and industrial contexts to underpin more detailed coverage in later models in this series. The module aims to develop fundamental skills in mathematics and IT which will underpin their core chemistry modules. The module will also give students the opportunity to develop their transferable skills including knowledge of health and safety in the chemistry laboratory, effective communication in both written and oral form and group work.
Core
CHM1005M
Level 4
2023-24
This module aims to introduce students to the chemistry laboratory environment. The purpose of the module is to provide students with a platform which can be built upon in subsequent practical modules and equalise their potentially pre-university laboratory experience. Within this module students can learn a portfolio of skills and be evaluated via competency based assessments. The module also covers best practice in health and safety in the laboratory environment as part of the series of key core concepts delivered in the module.
Core
CHM1006M
Level 4
2023-24
This module aims to provide students with the practical experience associated with the topics delivered in Core Chemistry 1.1 and Core Chemistry 1.2. The module will outline key organic, inorganic and physical chemistry concepts with a series of laboratory activities reinforced by the use of relevant analytical techniques and tools throughout a range of experiments.
Core
FRS1056M
Level 4
2023-24
This module will explain the process of forensic practice within the laboratory, including areas such as chain of custody, contemporaneous note taking, standard operating procedures and quality control. The module is therefore built around the principle that high quality forensic scientific evidence is not only about employing sound scientific methodology but is also dependent on the rigour of the procedures employed and the accurate reporting of results. It will also look to develop a range of transferable skills relating to scientific literature retrieval, understanding, and presentation, and allow students to further develop their mathematical and statistical skills.
Core
FRS2006M
Level 5
2024-25
This module builds on the Crime Scene Investigation module and focuses on the application of advanced techniques for the detection, recovery, analysis and interpretation of a wide range of evidence found at a crime scene. Students can further develop their understanding of the role and responsibilities of the crime scene manager and the investigation of complex crime scenes, including key specialists and agencies to be involved. Within this context students will look at the need to follow ISO accredited procedures and the latest up to date working practices within crime scene investigation. As part of the module students are expected to undertake the examination of a complex crime scene.
Core
CHM2002M
Level 5
2024-25
This module aims to provide a breadth core understanding of the physicochemical principles behind some of the main analytical techniques and how these can be applied to identify atomic and molecular structures in both inorganic and organic chemistry. It also offers an insight on advanced synthetic methods and how these techniques can be used to explain and interpret structure and reactivity of complex molecules, such as coordination and organometallic compounds.
Core
CHM2003M
Level 5
2024-25
This module aims to further develop core chemistry concepts relating to chemical change. Electrochemistry is used to study thermodynamic properties of redox reactions as well as the kinetics of electrode processes. The kinetics of complex reactions builds upon the chemical kinetics material covered at level one. Bonding between metals and carbon is explored and further developed as the main group organometallics.
Core
CHM2004M
Level 5
2024-25
This module aims to provide students with the practical experience associated with the topics delivered in Core Chemistry 2.1, with a strong focus on organic chemistry. The module will outline essential complex organic chemistry concepts with a series of laboratory activities designed around multistep syntheses and reinforced by the use of relevant analytical techniques and tools throughout a range experiments.
Core
CHM2005M
Level 5
2024-25
This module aims to provide students with the practical experience associated with the topics delivered in Core Chemistry 2.2, with a strong focus on inorganic and physical chemistry. The module is constituted of a series of laboratory activities designed to familiarise students with an array of techniques centred around key aspects of inorganic syntheses. Specifically, the module emphasizes stability and speciation methods and their applications to the inorganic chemistry field. All aspects of the module will be supported by associated relevant analytical technologies.
Core
FRS2026M
Level 5
2024-25
This module aims to provide students with an appreciation of regulation and quality assurance in forensic science and the role of the Forensic Science Regulator in this key concepts in modern forensic science. Students will apply the method validation tools from previous modules to evaluate forensic data within a quality context. Students will also develop skills in the retrieval, critical review and communication of scientific literature and other published work.
Core
FRS2018M
Level 5
2024-25
This module is designed to develop an understanding of the importance of trace materials, such as hair, fibres, glass and latent fingermarks, as evidence, their detection, recovery, analysis and the interpretation of results gained from these. The issues of transfer and persistence of such materials is also highlighted and the need to consider this throughout the above processes. Students will have the opportunity to be introduced to microscopy and analytical procedures and techniques relevant to the analysis of trace evidence.
Core
CHM3002M
Level 6
2025-26
This module aims to provide deeper understanding on physicochemical principles behind materials and their properties, exploring advanced concepts in supramolecular chemistry and synthetic routes for more complex organic molecules. Crystals, colloids, discontinuous phases and solid state chemistry concepts are studied in depth to understand physical and chemical properties that give these materials a wide range of application in industry and research.
Core
CHM3003M
Level 6
2025-26
This module covers in greater depth the thermodynamics and kinetics of processes occurring on solid surfaces. Heterogeneous catalysis is used as an example of how reactions at solid surfaces differ from those in the bulk. Electrochemistry is further developed. Organic chemistry topics are the advanced areas of radical chemistry and orbital symmetry along with heteroelement and organometallic synthesis. Concepts of supramolecular chemistry are covered.
Core
FRS3053M
Level 6
2025-26
This module provides a context for the chemical, physiological and analytical content introduced at levels 1 and 2. It deciphers the complex and dynamic world context of Drugs of Abuse and intrinsic challenges faced by analytical chemists. It also covers the legislation of controlled substances and chemical precursors as well as the different classes of drugs. Additionally, the synthesis of illicit drugs will be explored to gain an understanding of how this knowledge can be used in drug profiling. The module also covers the ante and post-mortem toxicology of drugs, relates dose to physiological effect as well as consider appropriate samples and analytical strategies used in forensic toxicology. Supporting and illustrating these concepts, students can undertake the role of an analytical chemist in investigative practical activities which will cover best practice in Drug of Abuse and Toxicology laboratory analyses.
Core
CHM3004M
Level 6
2025-26
This module builds upon previous practical modules and provides a support for the illustration of the theory delivered in the Core chemistry 3.1 module. The concept of this module is to offer students the opportunity to experience and dissect the process of designing a material which fulfils specific requirements or needs, its synthesis and its characterisation. Through this process, the module offers the opportunity to host advanced complex organic syntheses (such as asymmetric synthesis) and supramolecular synthesis. Additionally, the module introduces students to a series of stereoselective analytical techniques designed to characterise aforementioned materials.
Core
CHM3006M
Level 6
2025-26
This module offers students the opportunity to undertake an independent programme of research under the supervision of a member of staff. It provides students with the opportunity to demonstrate original and critical thoughts as well as build practical and project-management skills. Students may select a project from a series of proposals provided by staff, conduct a review of the literature, identify a hypothesis, and design a programme of research to test the hypothesis (under guidance from their supervisor). Students will be expected to manage the project including obtaining relevant ethical approval and conducting COSHH and risk assessments. Students may analyse and interpret data which will be collected in the laboratory or the field, or using computational sources (e.g. software for mathematical modelling; the internet for the meta-analysis of pre-collected data). The project will be written up either as a thesis or a scientific paper following closely defined criteria.
Core
CHM3001M
Level 6
2025-26
The Biological Chemistry module is taught across the disciplines of biology and chemistry and is designed to challenge and develop an awareness of multidiscipline research within students. The overarching aim is to encourage and develop a mode of thinking in students of how chemistry influences biological processes and how this can be exploited by industry and emerging fields.
Optional
FRS3054M
Level 6
2025-26
This module introduces the chemistry and physics of fire and explosives and considers the investigation of fire and explosion scenes with an emphasis on arson and the use of improvised explosive devices. The challenges of evidence recovery, laboratory examination and chemical analysis are covered. This module also considers the various aspects of nuclear terrorism, in the context of global security. The underpinning science and the forensic investigation of nuclear materials for intelligence building is discussed.
Optional
Features
Skills Development and Professional Practice
Our Chemistry courses have an embedded explicit skills development programme through the professional practice modules. The programme delivers a systematic programme in skills development, which includes CV writing and interview skills. The modules exemplify the application of chemistry into key employment sectors and present chemistry through an integrated approach.
Industry Challenges
A series of themed industry challenges are co-delivered during the professional practice modules through industry partnerships with multi-national and SME organisations representing the analytical, formulation, pharmaceutical, and energy and environmental sectors.
After systematic project planning and management training, students can devise and present technical proposals in response to the challenge. After consultation and feedback from a joint academic and industry panel, students can execute project plans and report within industry standard methods. The professional practice modules aim to prepare students for placements and future employment.
Placements
Students may have the opportunity to undertake placements. When students are on an optional placement in the UK or overseas or studying abroad, they will be required to cover their own transport and accommodation and meals costs.
Placements can range from a few weeks to a full year if students choose to undertake an optional sandwich year in industry (where available). Students are encouraged to obtain placements in industry independently. Tutors may provide support and advice to students who require it during this process.
Accreditations and Memberships
This course is accredited by the Royal Society of Chemistry. Through accreditation, the Royal Society of Chemistry aims to promote good practices in the university education of chemical scientists, and ensure that future practising scientists are knowledgeable and competent.
How you are assessed
The way students are assessed on this course may vary for each module. Examples of assessment methods that are used include coursework, such as written assignments, reports, or dissertations; practical exams, such as presentations, performances, or observations; and written exams, such as formal examinations or in-class tests. The weighting given to each assessment method may vary across each academic year. The University of Lincoln aims to ensure that staff return in-course assessments to students promptly.
Fees and Scholarships
Going to university is a life-changing step and it's important to understand the costs involved and the funding options available before you start. A full breakdown of the fees associated with this programme can be found on our course fees pages.
For eligible undergraduate students going to university for the first time, scholarships and bursaries are available to help cover costs. The University of Lincoln offers a variety of merit-based and subject-specific bursaries and scholarships. For full details and information about eligibility, visit our scholarships and bursaries pages.
Entry Requirements 2023-24
United Kingdom
---
A Level: BBC, to include a grade B from A Level Chemistry (112 UCAS Tariff points from a minimum of 3 A Levels or equivalent qualifications).
International Baccalaureate: 29 points overall, with Higher Level Grade 5 in Chemistry.
BTEC Extended Diploma in Applied Science or Forensic Science*: Distinction, Merit, Merit or equivalent.
*not all modules are accepted. Please contact our Admissions team for further information (admissions@lincoln.ac.uk)
Access to Higher Education Diploma: 45 Level 3 credits with a minimum of 112 UCAS Tariff points, including 40 points from 15 credits in Chemistry.
A combination of qualifications which may include A Levels, BTEC, EPQ, etc.
Applicants will also need at least three GCSEs at grade 4 (C) or above, which must include English, Maths and Science. Equivalent Level 2 qualifications may also be considered.
The University accepts a wide range of qualifications as the basis for entry. We will also consider applicants with extensive and relevant work experience and will give special individual consideration to those who do not meet the standard entry qualifications.
International
---
Non UK Qualifications:
If you have studied outside of the UK, and are unsure whether your qualification meets the above requirements, please visit our country pages for information on equivalent qualifications.
https://www.lincoln.ac.uk/home/studywithus/internationalstudents/entryrequirementsandyourcountry/
EU and Overseas students will be required to demonstrate English language proficiency equivalent to IELTS 6.0 overall, with a minimum of 5.5 in each element. For information regarding other English language qualifications we accept, please visit the English Requirements page.
https://www.lincoln.ac.uk/home/studywithus/internationalstudents/englishlanguagerequirementsandsupport/englishlanguagerequirements/
If you do not meet the above IELTS requirements, you may be able to take part in one of our Pre-sessional English and Academic Study Skills courses.
https://www.lincoln.ac.uk/home/studywithus/internationalstudents/englishlanguagerequirementsandsupport/pre-sessionalenglishandacademicstudyskills/
For applicants who do not meet our standard entry requirements, our Science Foundation Year can provide an alternative route of entry onto our full degree programmes:
https://www.lincoln.ac.uk/home/course/sfysfyub/

If you would like further information about entry requirements, or would like to discuss whether the qualifications you are currently studying are acceptable, please contact the Admissions team on 01522 886097, or email admissions@lincoln.ac.uk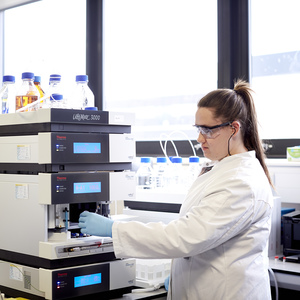 "The best thing about the programme was that it challenged me, kept me engaged, and had me always wanting to learn more."
Victoria Hugill, MChem Forensic Chemistry graduate
Career Opportunities
Forensic Chemistry graduates can benefit from specialist skills and technical knowledge that are transferable to careers in chemistry, forensic laboratories, and law enforcement organisations, such as police forces, HMRC, and environmental health. Some graduates go on to study at postgraduate level.
Visit Us in Person
The best way to find out what it is really like to live and learn at Lincoln is to join us for one of our Open Days. Discover the Joseph Banks Laboratories where Chemistry students have access to high-specification instrumentation for spectroscopy, diffraction, imaging, and separation science.
Book Your Place