Dr Edmond Nurellari - Programme Leader
Dr Nurellari has been a member of the School of Engineering since 2017, with research interests in drone based communication systems, wireless power transfer, distributed signal processing, signal processing on graphs, resource allocations, distributed decisions, and network security analysis in wireless sensor networks by employing tools from graph theory and game theory.
Academic Staff List
Welcome to BEng (Hons) Electrical and Electronic Engineering
Electrical engineering is essential to the modern world, encompassing everything from energy and automation through to communications and transport. The BEng (Hons) Electrical and Electronic Engineering programme is designed to equip students with the skills needed by industry and to succeed as the engineers of the future.
Founded in collaboration with Siemens, the University of Lincoln's School of Engineering has a core philosophy of research-led teaching. Our innovative industrial collaborations have led to a rich programme of work experience opportunities, including at Siemens Energy in Lincoln.
Throughout the course, there are extensive opportunities at each level of study to engage in hands-on projects and benefit from learning in an environment where our academics and researchers are conducting research. The curriculum is designed to support students to bridge the gap between university and the professional world by developing skills that are essential within industry.
Strong links exist between our Mechanical and Electrical programmes, enabling our students to develop the strong cross-disciplinary focus necessary for the modern engineer, and an understanding of industry perspectives.
How You Study
The course covers core electrical engineering subjects and provides opportunities to specialise in advanced electronics. Teaching and learning on the programme aims to empower problem- and project-based learning. We aim to narrow the gap between employers' requirements and our graduates' skills by developing skills that are required by industry.
The first and second year of the Electrical and Electronic Engineering programmes offer a foundation in engineering theory and practice. Students can develop fundamental knowledge in areas such as robotics, semiconductor device physics, electrical technology, matter and interactions, engineering mathematics, and numerical computation. Teaching includes important technical and workshop skills and, after the first year, students can specialise in electrical and electronic engineering.
Specialist modules in the third year include Power Electronics, Robotics and Automation, and Internet of Things and Smart Electronics. At each stage, students have opportunities to develop their engineering skills on real-life problems through project-based learning opportunities.
What You Need to Know
We want you to have all the information you need to make an informed decision on where and what you want to study. To help you choose the course that's right for you, we aim to bring to your attention all the important information you may need. Our What You Need to Know page offers detailed information on key areas including contact hours, assessment, optional modules, and additional costs.
An Introduction to Your Modules
---
† Some courses may offer optional modules. The availability of optional modules may vary from year to year and will be subject to minimum student numbers being achieved. This means that the availability of specific optional modules cannot be guaranteed. Optional module selection may also be affected by staff availability.
EGR1013M
Level 4
2023-24
Many sectors of engineering require high levels of computer literacy and the ability to write computer programs for problem solving is highly desirable. In learning the fundamentals of computer programming, logical thinking and problem solving, skills can be developed and coding techniques learnt, that can support the study of modules in forthcoming years. This course delivers the concepts of structured computer programming and lab time is allocated for implementing these concepts. Students are provided with opportunities to plan, write, and debug their own computer programs.
Core
EGR1022M
Level 4
2023-24
All engineers must be familiar with design strategies, methods of assessing design proposals, approaches to reducing uncertainty, formal communication techniques and the industrial and legal standards in which they fit. Mechanical Engineering students will independently learn and demonstrate the fundamentals of mechanical technical drawing and computer aided design (CAD); Electrical Engineers will independently learn and demonstrate the fundamentals of electrical drawing and CAD. Electrical and Mechanical engineers will then coalesce to form interdisciplinary groups who will produce an electro-mechanical design solution which meets a practical objective and considers the commercial, economic, social and environmental implications via a broad critique of the state of the art.
Core
ELE1004M
Level 4
2023-24
An understanding of the basic principles and many of the important practical applications of electronic and electrical engineering is now essential to practitioners of other disciplines, especially Mechanical Engineers. The aim of this module is to provide a foundation in Electrical Engineering and Electronics for students, of sufficient depth to be useful, and without being over complicated or cluttered with too-rigorous and exhaustive mathematical treatment.
Core
ELE1002M
Level 4
2023-24
The aim of this module is to introduce students to robotics engineering by providing a broad overview of diverse robotics applications. The focus of this introductory module will be on the main technological aspects of robots as truly mechatronic systems, including mechanical configurations, sensing and actuation systems and programming methods. Some considerations about the mathematical description of robots will be provided. Finally, students will also have the opportunity to gain hands-on experience of designing a robotic system using an educational robotic kit.
Core
EGR1014M
Level 4
2023-24
A good mathematical grounding is essential for all engineers. The theory developed in this module aims to underpin the other engineering modules studied at level one. Wherever possible, mathematical theory is taught by considering a real example, to present students the mathematical tools they might need for the science they follow. Solutions are considered by both analytical and numerical techniques.
Core
ELE1001M
Level 4
2023-24
The aim of this module is to establish an understanding of electrostatics, electromagnetics, and electroconductive fields - more commonly referred to as field theory. Students are introduced to the fundamental topics in electrostatics, magnetostatics, and electromagnetics leading to an introduction to Maxwells equations which will support subsequent modules on devices, electricity, and magnetism and optoelectronics. As well as providing a basic foundation in field theory the behaviours of materials under electric and magnetic fields are also explained along with more practical aspects of field theory that are pertinent to the modern day electrical engineer such as EMC.
Core
ELE1003M
Level 4
2023-24
Students with an understanding of the physics underlying semiconductor devices and applications will be given the opportunity to study the processing of semiconductors to produce devices.
Core
ELE2001M
Level 5
2024-25
Analogue electronics covers the tools and methods necessary for the creative design of useful circuits using active devices. The module stresses insight and intuition, applied to the design of transistor circuits and the estimation of their performance.
Core
EGR2006M
Level 5
2024-25
The aim of this module is to provide students with a firm grounding in Classical Control methods, which will enable them to work with systems and control engineers, and prepare students on the control stream for advanced topics in the level three and four modules. Students will be introduced to Control in relation to engineering systems, and in particular to develop methods of modelling the control of processes. Techniques are explored with particular reference to common practical engineering problems and their solutions, and the application of SIMULINK in this process.
Core
EGR2010M
Level 5
2024-25
The purpose of this programme of mathematical study is to give students the opportunity to become more competent in calculations using a range of mathematical tools. The content builds upon that delivered in the first year, and gives students the opportunity to extend their analytical skills by introducing more advanced topics that may form part of the modern engineers skill set.
Core
ELE2002M
Level 5
2024-25
This module aims to introduce digital system design, the principles of programmable logic devices, the implementation of combinational and sequential circuits, and the principles of hardware design using Verilog, a specialist hardware description language.
Core
ELE2004M
Level 5
2024-25
Students will be introduced to electrical machines and power systems and their practical applications, supported by practical analysis/synthesis methods. This ability is fundamental for the students with mechanical engineering background, if they are to be able to handle electromechanical problems encountered in real life situations. Students will further have the opportunity to explore a general methodology for the calculation of electromechanical energy conversion. Students can obtain an appreciation of the features and characteristics of different types of electromechanical machines and drives and their applications.
Core
EGR2011M
Level 5
2024-25
This module aims to provide an introduction to the subject of industrial engineering. Industrial engineering is a branch of engineering dealing with the optimisation of complex processes or systems. It is concerned with the development, improvement, implementation and evaluation of integrated systems of people, economic resources, knowledge, information, equipment, energy, materials, analysis and synthesis, as well as the mathematical, physical and social sciences together with the principles and methods of engineering design to specify, predict, and evaluate the results to be obtained from such systems or processes. The various topics include management science, cost and value engineering, business economics and finance, engineering management, supply chain management, operations research, health and safety engineering, operation management.
Core
EGR2007M
Level 5
2024-25
The content of this module aims to deepen a students understanding of engineering in practical applications. Students will have the opportunity to investigate the design process for mechanical, electrical or control components/systems and undertake analysis of the same. These two strands of the module are brought together in a design project, which will be set by a professional engineering organisation. This major project will give students the opportunity to extend their creative design skills and obtain practical experience of the process of creating sound conceptual solutions through to real design problems within an industrial context. Students can build confidence and gain experience through working within a team with practicing engineers from industry.
Core
ELE2003M
Level 5
2024-25
The term mechatronics integrates mechanical engineering with electronics and intelligent computer control in the design and manufacture of products and processes. As a result, many products which used to have mechanical functions have had many replaced with ones involving microprocessors. This has resulted in much flexibility, easier redesign and reprogramming, and the ability to carry out automated data collection and reporting. A consequence of this approach is the need for engineers to adopt an interdisciplinary and integrated approach to engineering. The overall aim of this module is to give a comprehensive coverage of topics, such as analogue and digital signals, digital logic, sensors and signal conditioning, data acquisition systems, data presentation systems, mechanical and electrical actuation systems, microcontroller programming and interfacing, system response and modelling, and feedback control. Students may make extensive use of Simulink and a MATLAB support packages based an Arduino board, which allow for graphical simulation and programming of real-time control systems. The module serves as an introductory course to more advanced courses such as Measurement and Testing, Sensors, Actuators and Controllers, and Embedded Systems.
Core
EGR2015X
Level 5
2024-25
The Placement Year constitutes a work placement during an academic year, typically between Levels 2 and Level 3, though it may take place between levels 3 and 4 of an MEng programme. Students wishing to undertake the work placement year must successfully complete Level 2 (and 3 if applicable) of their programme. The Placement Year aims to give students a continuous experience of full-time work within an organisation. It should be a three-way co-operative activity between employer, student, and University. Work placements enable students to experience at first hand the daily workings of an organisation while setting that experience in the broader context of their studies.
Optional
EGR2019M
Level 5
2024-25
This module provides an opportunity for students to spend a term in the second year studying at one of the Universitys partner institutions abroad. Students wishing to take part in this must submit an application to the School discuss why they wish to participate in a study period abroad. A limited number of places will be available each year, and participation is subject to the School's approval.
Optional
ELE3001M
Level 6
2025-26
The module aims to enable students to gain knowledge and understanding of the principles and other key elements in communication systems and the theory involved in their design. Students are introduced to analogue and digital communication systems, as well as to the use of information theory in the framework of communication systems and their performance. An important aspect of this module is studying the topics of random processes and noise, sampling and quantization, and introducing students to key issues of filter design and modulation. Laboratory work will be carried out in Matlab/Simulink or equivalent software tool.
Core
EGR3024M
Level 6
2025-26
The individual project aims to provide students with a learning experience that enables them to carry out independent research, and to integrate many of the subjects they have studied throughout their degree. Students are expected to plan, research and execute their task while developing skills in critical judgement, independent work and engineering competence. Students have the opportunity to gain experience in presenting and reporting a major piece of engineering work, of immediate engineering value, at a level appropriate for an honours degree student.
Core
ELE3004M
Level 6
2025-26
In this module students will have the opportunity to work on the design of digital projects using Verilog for FPGA and ASIC implementation. Hierarchy of design abstraction and the process of top down design will also be covered, in addition to advanced concepts and methods of Verilog. Investigation of FPGA architectures issues involved in FPGA based implementations of advanced digital designs are illustrated by practical laboratories and assignments.
Core
ELE3002M
Level 6
2025-26
This module aims to introduce students to the fundamental concepts and principles of operation of various types of electrical machines. It aims to equip students with basic experimental and modelling skills for handling problems associated with electrical machines. This module will give students the opportunity to develop an appreciation of design and operational problems in the electrical power industry. Students are also introduced to the modern CAD environment in relation to design of electromechanical devices.
Optional
ELE3006M
Level 6
2025-26
This module is intended to introduce students with the fast growing area of consumer electronics design. Apart from interface and size issues, portable consumer electronics present some of the toughest design and engineering challenges in all of technology. This module breaks the complex design process down into its component parts, detailing every crucial issue from interface design to chip packaging, focusing upon the key design parameters of convenience, utility and size.
Optional
ELE3003M
Level 6
2025-26
The aim of this module is to provide students with a thorough understanding of power electronics and electrical drives. The first part of the module begins with an overview of the main concepts behind electrical power processing and control. Power semiconductor switches are then introduced and their use as basic components in power electronics systems is deeply investigated. Subsequently, the main power converters architectures are defined and systematically analysed. The second part of the module aims to enable students to gain knowledge and understanding of classical electric machines and drives.
Optional
ELE3005M
Level 6
2025-26
The aim of this module is to enable students to gain knowledge and understanding of the principles and other key elements in robotics, its interdisciplinary nature and its role and applications in automation. The module starts with the history and definition of robotics and its role in automation with examples. The module continues by studying a number of issues related to classifying, modelling and operating robots, followed by an important aspect of the robotics interdisciplinary nature i.e. its control and use of sensors and interpretation of sensory information as well as vision systems. Students will also have the opportunity to be introduced to the topics of networked operation and teleoperation, as well as robot programming
Optional
EGR3031M
Level 6
2025-26
The aim of this module is to introduce students to theory and methodology of advanced techniques relevant to engineering systems, in order to design and implement filters and systems. System identification is a general term to describe mathematical tools and algorithms that build dynamic models from measured data. A dynamic model in this context is a mathematical description of the dynamic behaviour of a system or process in either the time or frequency domain. Students are given the opportunity to investigate methods by which they can perform useful operations on signals in either discrete or time-varying measurement.
Optional
ELE3007M
Level 6
2025-26
The purpose of this module is to analyse electrical machines, switched mode power-electronic convertors and design power systems for medium to high power applications. Students will have the opportunity to examine the operation characteristics and capabilities of commonly used systems and their control methods. In addition, students may examine the methods and issues surrounding transmission of electrical power, including insight and understanding of power system protection applications and the effects of system design on power quality.
Optional
EGR3032M
Level 6
2025-26
In control engineering, a state-space representation is a mathematical model of a physical system as a set of input, output and state variables. Students have the opportunity to explore different methods of resolving the control variables in order to analyse systems in a compact and relevant way.
Optional
Special Features
Our academic team brings a rich array of research experience in various fields of electronics, control, and power and energy. Academics have secured grants from major UK and European research funders and have delivered research, development, and consultancy for industrial partners such as Siemens, Castlet Inc, Teledyne e2v, Dynex Semiconductor Ltd, Fedecacao (Colombia), Sangha Innovation (India), and Arralis Ltd.

Founded in collaboration with Siemens, the University of Lincoln's School of Engineering has a core philosophy of research-led teaching. Our innovative industrial collaborations have led to a rich programme of work experience opportunities, including at Siemens Energy in Lincoln.
Accreditations and Memberships
This degree is accredited by the Institution of Engineering and Technology (IET), to enable students completing the programme the eventual opportunity to register as a Chartered Engineer (CEng). Further Master's level accredited learning is required to complete the educational base for full CEng status.
Placements
A sandwich option is available on the programme, providing students with the opportunity to spend a year in industry. Students are encouraged to obtain placements in industry independently. Tutors may provide support and advice to students who require it during this process. Students undertaking placements are responsible for their own travel, living, and accommodation costs.
How you are assessed
Assessment methods on the Electrical and Electronic Engineering programme aims to test engineering technical and analytical skills, as well as professional soft skills including oral and written communication, team working, long-life learning, problem-solving, project management, and planning and organisation.
The way students are assessed on this course may vary for each module. Examples of assessment methods that are used include coursework, such as written assignments, reports, or dissertations; practical exams, such as presentations, performances, or observations; and written exams, such as formal examinations or in-class tests. The weighting given to each assessment method may vary across each academic year. The University of Lincoln aims to ensure that staff return in-course assessments to students promptly.
Fees and Scholarships
Going to university is a life-changing step and it's important to understand the costs involved and the funding options available before you start. A full breakdown of the fees associated with this programme can be found on our course fees pages.
For eligible undergraduate students going to university for the first time, scholarships and bursaries are available to help cover costs. The University of Lincoln offers a variety of merit-based and subject-specific bursaries and scholarships. For full details and information about eligibility, visit our scholarships and bursaries pages.
Entry Requirements 2023-24
United Kingdom
---
A Level: BBC, to include a minimum grade B in Maths (112 UCAS Tariff points from a minimum of 3 A Levels or equivalent qualifications).
International Baccalaureate: 29 points overall to include Higher Level grade 5 in Maths
BTEC Extended Diploma in Engineering: Distinction, Merit, Merit or equivalent.
T Level: Merit in Engineering accepted.
Access to Higher Education Diploma: 45 Level 3 credits with a minimum of 112 UCAS Tariff points, including 40 points from 15 credits in Maths.
A combination of qualifications which may include A Levels, BTEC, EPQ, etc.
Applicants will also need at least three GCSEs at grade 4 (C) or above, which must include English and Maths. Equivalent Level 2 qualifications may also be considered.
The University accepts a wide range of qualifications as the basis for entry. We will also consider applicants with extensive and relevant work experience and will give special individual consideration to those who do not meet the standard entry qualifications.
International
---
Non UK Qualifications:
If you have studied outside of the UK, and are unsure whether your qualification meets the above requirements, please visit our country pages for information on equivalent qualifications.
https://www.lincoln.ac.uk/home/studywithus/internationalstudents/entryrequirementsandyourcountry/
EU and Overseas students will be required to demonstrate English language proficiency equivalent to IELTS 6.0 overall, with a minimum of 5.5 in each element. For information regarding other English language qualifications we accept, please visit the English Requirements page.
https://www.lincoln.ac.uk/home/studywithus/internationalstudents/englishlanguagerequirementsandsupport/englishlanguagerequirements/
If you do not meet the above IELTS requirements, you may be able to take part in one of our Pre-sessional English and Academic Study Skills courses.
https://www.lincoln.ac.uk/home/studywithus/internationalstudents/englishlanguagerequirementsandsupport/pre-sessionalenglishandacademicstudyskills/
For applicants who do not meet our standard entry requirements, our Science Foundation Year can provide an alternative route of entry onto our full degree programmes:
https://www.lincoln.ac.uk/home/course/sfysfyub/

If you would like further information about entry requirements, or would like to discuss whether the qualifications you are currently studying are acceptable, please contact the Admissions team on 01522 886097, or email admissions@lincoln.ac.uk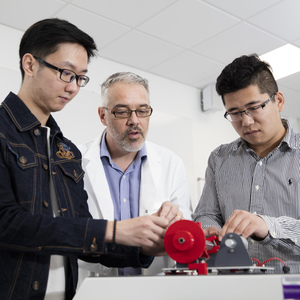 "I have been supported in developing my professional skills to be on track for becoming a Chartered Engineer, and I have made the most of what the course has to offer to help me build confidence in my own academic ability. The academic staff are supportive and I know they want to help me achieve to the best of my ability."
Tim Gorringe, MEng (Hons) Electrical Engineering student
Career Opportunities
The School of Engineering aims to prepare its graduates for a variety of career paths in areas such as energy, transportation, biomedical engineering, and microelectronics. This can include working with sensor networks, automotive electronics, in the microprocessor industry, and in the aerospace and satellite sectors.
Visit Us in Person
The best way to find out what it is really like to live and learn at Lincoln is to join us for one of our Open Days. Visiting us in person is important and will help you to get a real feel for what it might be like to study here.
Book Your Place