Dr Stephen Bruel - Programme Leader
Stephen gained his PhD in music production and remastering from Queensland University of Technology. Stephen has industry experience working at organisations including the Australian Broadcasting Corporation, AVID (Pro Tools), Fairlight ESP (pro audio manufacturer), the Queensland Government, and Rolling Stone magazine, as well as a musician and songwriter in a band signed to an independent record label. He has presented his research at music and sound conferences in London, Boston and Canberra and will publish a monograph on remastering music in 2022.
Academic Staff List
Welcome to BA (Hons) Sound and Music Production
This specialist degree enables you to develop the required industry production skills for a career in audio postproduction (film, TV, and animation), radio, and music. Previous students have progressed to careers with organisations including the BBC, Channel 4, Sky, The Church Studios, Pinewood Studios, Fonic, and Sweet Justice Sound, as well as freelance roles.
Underpinned by theory and research, this programme enables you to think critically and creatively about sound alongside gaining hands-on skills in order to prepare you for individual creative practice, further study, or careers in education and research. Previous students have pursued Master's degrees at institutions including the Berklee School of Music and the University of Huddersfield.
Teaching staff include a mix of industry-connected professionals and academic researchers who contribute their knowledge and experience to provide a comprehensive understanding of sound as it applies to music, radio, and postproduction industry and culture. You can also benefit from guest lectures and masterclasses delivered by industry experts. Previous guest lecturers include Andy Barlow (producer for U2), Tony Platt (recording engineer AC/DC), and Alannah Chance (producer BBC radio).
You'll be able to develop and hone your skills in our professional recording studio and radio studio, using industry-standard audio software such as Pro Tools, iZotope, Logic, Adobe Suite, and sound stage workflows and equipment.
You will also have the opportunity to volunteer for Siren Radio, our community station which broadcasts daily to the city of Lincoln on 107.3 FM and globally online, as well as potentially secure experience and paid work in live sound through our on-campus performance venue, The Engine Shed.
How You Study
On this course, students can develop their knowledge, theory, and practice of sound and music production. This culminates in their own independent projects (two advanced pieces of client-based practice work), along with an extended piece of academic work in the form of a dissertation.
In your first year, you will undertake a selection of core practical and theoretical modules to provide you with a solid foundation in sound as it applies to postproduction, radio, and music production. As an AVID Learning Partner, you will receive a complimentary copy of Pro Tools, the industry-standard audio software, and be taught official AVID courseware whereby you will have the option to become AVID certified through external examinations (subject to availability).
In your second year, you can focus on key areas of interest (post, radio, and/or music) through elective modules. There will be opportunities to book our recording spaces for collaboration with students from film production, animation, journalism, and music. Additionally, you will also prepare for your final-year dissertation through design of your major research project.
Your final year will enable you to bring together all of your previous creative, practical, and theoretical studies to produce two major client-based sound project portfolios, as well as complete your dissertation on your key area of interest.
For students who are interested in studying abroad, there may be the option to take part in an exchange programme in the USA. Please note that fees for the placement are included but travel, accommodation, and general living costs are the responsibility of the student.
What You Need to Know
We want you to have all the information you need to make an informed decision on where and what you want to study. To help you choose the course that's right for you, we aim to bring to your attention all the important information you may need. Our What You Need to Know page offers detailed information on key areas including contact hours, assessment, optional modules, and additional costs.
An Introduction to Your Modules
---
† Some courses may offer optional modules. The availability of optional modules may vary from year to year and will be subject to minimum student numbers being achieved. This means that the availability of specific optional modules cannot be guaranteed. Optional module selection may also be affected by staff availability.
AUP1005M
Level 4
2023-24
In this module students are invited to investigate the practices and creative possibilities of working within a desktop music and sound design production environment. This will involve MIDI programming, composition of basic musical and rhythmic arrangements, sound design, sound effects and an introduction to software instruments, synthesis, sampling techniques and digital signal processing.
Core
AUP1009M
Level 4
2023-24
Key Concepts in Sound introduces ideas, terms and approaches relevant to the study and critical analysis of sound, listening and audio practice. Drawing upon critical and philosophical texts, art practices, and historical accounts, the module takes an interdisciplinary approach to the sonic, situating it in relation to its political, geographical and cultural contexts. The modules aims to interrogate sound's associations and intersections with other sensory media; the auditory dimensions of identity, power, and technology; and the relationship between sonic experience, time and space. Key Concepts in Sound also aims to develop students critical thinking and research skills, providing them with an opportunity to engage in research-led learning.
Core
AUP1003M
Level 4
2023-24
This module aims to provide an introduction to the multi-track studio environment in which students can identify and employ digital audio recording, editing and mixing techniques and technologies. The study of listening skills essential to the perception of audio quality will be introduced and can be developed along with the practical and technical elements necessary for studio-based audio and music production.
Core
AUP1010M
Level 4
2023-24
Practices of Recording is a theory/practice module, designed to introduce students to a variety of approaches to sound recording and their historical, social and political contexts. This module aims to broaden students perspectives of what audio recording might entail. Emphasis here is placed on recording practices and techniques that occur beyond the studio and music production.
Core
AUP1006M
Level 4
2023-24
This module is designed to introduce students to the principles and practices of working with sound. The module aims to develop knowledge of the sound wave, acoustics, human hearing, auditory perception, microphones and digital audio standards such as file formats, storage and playback. Basic Pro Tools recording, editing and audio manipulation techniques are also introduced.
Core
AUP1011M
Level 4
2023-24
This module aims to give students a basic understanding of the practical and technical skills used during radio and podcast production including research, factual production, and studio expertise. Students are encouraged to think creatively and will work in teams to present live audio content for an identified radio audience reflecting current industry practice. Students are given time to practise recording sound on location, in the radio studios, audio editing, and to work on their own creative projects for assessment.
Core
AUP1004M
Level 4
2023-24
This module is designed to provide an overview of current industry techniques and practices, including an understanding the route from edit platforms to final sound mix; cleaning up and replacing original recorded sound; recording and placing commentary, dialogue, effects and music editing; and the addition of creative elements to create aural landscapes for still or moving images. Music and sound effects library sources, server based libraries and importing and exporting audio files, sourcing, cataloguing and sifting.
Core
AUP1007M
Level 4
2023-24
This module aims to contextualise students production practices by introducing them to the ways in which both media and music institutions within the creative and cultural industries are organised. The module aims to explore and examine key issues in the history and current organisation of, and possible changes in, the cultural industries as institutions and practices. Students have the opportunity to develop an understanding of the legal, ethical, regulatory, and self-regulatory frameworks within which they operate.
Core
AUP2005M
Level 5
2024-25
This module sets out to explore some of the ways in which we make, sense, and transform ourselves and our worlds through our sonic and auditory cultures. We will focus on a number of important phenomena in our consideration of sonic practices, ways of hearing and contemporary scholarship on the auditory dimensions of media. Designed to engage both Media Studies and Sound and Music Production students in their respective fields, we will move from discussions of sound in relation to the affective capacities of the body through discussion of audition in relation to space and place (focused through the concept of the soundscape). We will consider discussions of sound and technology and explore concepts and phenomena of noise and silence in sonic and musical experience. This module encourages collaborative research in the spirit of Student as Producer, the organizing principle of teaching and learning in the university.
Core
AUP2003M
Level 5
2024-25
A broad look at audio-culture from the twentieth century to the present, offering challenge and insight to Film & TV specialists. Vision is often privileged, resulting in a relative paucity of language for discussing sound. This problem is addressed, looking at texts from key theorists and practitioners, considering sound not in addition to vision, but independently, in music, radio, art and daily life.
Core
AUP2016M
Level 5
2024-25
In this module, we consider research as a process that informs both practice (broadly defined) and theory. This module enables students to engage with methods for researching audiences, institutions and auditory culture; and primary sources such as digital data, film, television and video game soundtracks and archival materials. We will critically reflect on various stages of the research process, including formulating research questions and objectives; developing a literature review; selecting appropriate methods; and considering research ethics. In doing so, this module prepares students for their Level 3 Independent Study Project, as well as their Level 3 Audio Projects and Creative Enterprise/Creative Industries Case Study.
Core
AUP2015M
Level 5
2024-25
The module is designed to examine and analyse the use of audio and music in the cultural industries. Specifically, the increasing importance of sonic branding in media networks, corporate branding and advertising. Audiences and consumers are mostly aware when they are a target for advertising and/or branding, but equally may have an unconscious understanding of the message. A number of key questions centre on the cultural effects of advertising and branding for example the salience of music in order to identify with and promote a brand: note the yearly and eagerly awaited John Lewis Christmas ads. Similarly, how does one know one is listening to specific BBC or commercial radio station just from the jingles or station sound? The module explores these questions in two ways: firstly, by providing the opportunity to understand how these messages are constructed and more specifically how the use of audio and music differentiates a brand from its competitors, and secondly, by researching and understanding the creative process of sonic branding production in an industry context. Students are encouraged to apply these ideas via the application of branding and audience research in order to pitch a short piece of created audio designed from a specific brief.
Core
AUP2020M
Level 5
2024-25
This module further develops students skills through use of advanced techniques of sound editing and design for all visual media outputs, such as film, television and screen devices. Through this, a deeper understanding of the role of the sound editor/sound designer and the audio post-production processes involved at the later stages of completion is achieved. Students learn how sound is acquired for film and television productions and what happens to the sound after the picture editing is completed. Students will work with digital audio workstations and software technologies and the sound dubbing theatre. Areas covered include synchronising sound and picture rushes, import/export of audio files, supplying audio files for the editing process, audio tracklaying using Digital Audio Workstations (DAWs), Editing dialogue and speech, recording Foley*, ADR* to picture; recording commentary and narration. Creative use of music in sound post-production is also covered, including composer spotting sessions, selecting and using production music and assessing musical requirements. The roles of mixer, assistant and sound editor are explored, in relation to selecting and assembling sound recordings and producing different mixes in preparation for final sound production of a television programme, film or screen based output. Students will understand the distinctive role of the film, television and screen sound editor and the creative sound post-production process for all moving image productions. (*The art of movement re-recording and using props for sound effects creation to picture) (*Automated Dialogue Replacement)
Optional
MED2292M
Level 5
2024-25
Optional
AUP2019M
Level 5
2024-25
This practice module equips students with the tools and techniques to harness their creativity in the creation of sonic worlds for visual and interactive media. Paying particular attention to story telling and audio manipulation and synthesis techniques, the module focuses on sound design for games, animation, advertising, promos, and idents. The basic principles of soundtrack production for film and TV are also introduced. However, these aspects of sound design are developed further in semester Bs Audio Post Production module. The module also explores sound design as a story-telling tool in radio/podcasting and the creation of user interface sounds for devices, exhibitions and other technologies we interact with in everyday life.
Optional
AUP2021M
Level 5
2024-25
Location sound recording is a critical component of the film-making process. Ranging from the practical aspects such as multichannel field recording and microphone types, to understanding on-set etiquette and working with actors, it is a hugely challenging technical and artistic craft. Students will learn how separate and synchronous sound is utilised in film production and how to effectively capture dialogue for factual and fiction productions. This module will equip students with the essential skills needed to provide filmmakers with high quality production sound.
Optional
AUP2018M
Level 5
2024-25
This module focuses on the development of students music mixing and mastering skills to enable the completion and presentation of their music productions in a professional manner. The module builds upon the core production and mix skills learned at level one but places greater emphasis on technical accuracy and sonic contextualisation of their work. Students will be required to mix and master a range of musical material and deliver this as a portfolio of work.
Optional
AUP2017M
Level 5
2024-25
This module enables students to develop a range of music production skills, approaches and techniques that are relevant to the dynamic and challenging environment of the current recorded music industry. The module builds upon the core tracking and production skills learned at level one but places a greater emphasis on sonic aesthetics and overall project delivery. Students will be required to make high quality recordings and then develop the sonic properties of these recording by applying various industry standard music production techniques appropriate to a devised brief.
Optional
MED2293M
Level 5
2024-25
Optional
AUP2009M
Level 5
2024-25
Optional
MED2282M
Level 5
2024-25
This module offers students the opportunity to produce and present a live radio show and gain a professional industry credit. Students can work in small collaborative teams to pitch a programme commission for a nominated radio station/online radio platform. They will be expected to research and specialise in one programme-making role and can develop technical, creative, and production skills. The module also allows students to develop a range of advanced skills to produce specialist, high-quality audio artefacts. Stories can be produced in audio drama, factual, and podcast formats, with high production values for an identified audience or platform. Students can work in small collaborative teams to develop ambitious and innovative ideas for a client commission and will be supported by experienced tutors and industry professionals to develop advanced skills in editing, recording, and audio production techniques. Critical studies content will be delivered via linked seminars throughout the year, to ensure practice and theory are underpinning each other. This will include exploring issues of audience, diversity, law, and ethics.
Optional
MED3290M
Level 6
2025-26
This module offers students the opportunity to use their skills to help a public, private or school community to solve a problem, fulfil a need or create educational materials. Students will be introduced to the range of skills required when working with such an organisation. They will work directly with the community, with the support of a tutor, to identify a specific need or problem. Students will then use their skills to propose a creative project or educational materials as a solution, while also ensuring that they comply with the laws and regulations governing the community. They will then mentor the community as it creates the project or materials. Students will be encouraged to work collaboratively and to produce media for contemporary platforms.
Core
AUP3003M
Level 6
2025-26
This module expects students to produce an advanced concept-led project using the technologies centred upon audio, music and/or broadcast formats. It provides an opportunity to produce work to an advanced level of creativity and technique, in a practice based medium, and will offer opportunities to undertake interdisciplinary production.
Core
AUP3004M
Level 6
2025-26
This module expects students to produce an advanced concept-led project using the technologies centred upon audio, music and/or broadcast formats. It provides an opportunity to produce work to an advanced level of creativity and technique, in a practice based medium, and will offer opportunities to undertake interdisciplinary production.
Core
AUP3007M
Level 6
2025-26
This module will introduce students to a range of professional skills and research approaches relevant to understanding how the sound and music organisations are structured, network, operate and function. The assignments are geared towards exploring the context of working within the sound and music creative industries and to inform their personal development as professionals.
Core
AUP3005M
Level 6
2025-26
The Audio Independent Study dissertation is the culmination of each student's undergraduate investigation into the structures and debates surrounding cultural production and takes the form of an extended essay. The chosen subject will facilitate involvement with issues relevant to contemporary media practice.
Core
How you are assessed
Assessment on this course is by a range of practical production projects both individually and within groups, and includes presentations and essays, reports, and case studies. The way students are assessed on this course may vary for each module.
The University of Lincoln's policy is to ensure that staff return assessments to students promptly.
Fees and Scholarships
Going to university is a life-changing step and it's important to understand the costs involved and the funding options available before you start. A full breakdown of the fees associated with this programme can be found on our course fees pages.
For eligible undergraduate students going to university for the first time, scholarships and bursaries are available to help cover costs. The University of Lincoln offers a variety of merit-based and subject-specific bursaries and scholarships. For full details and information about eligibility, visit our scholarships and bursaries pages.
Course-Specific Additional Costs
Project costs can vary depending on the nature of the practical work chosen by the student. Students are asked to consider costs when proposing a project. There are funds currently available within the School to students at all levels to provide support with such projects.
Please refer to the Placements tab for further information on costs associated with exchange programmes.
Students are responsible for travel, accommodation, and general living costs while undertaking work experience or internships.
Entry Requirements 2023-24
United Kingdom
---
A Levels: BBC (112 UCAS Tariff points from a minimum of 3 A levels or equivalent qualifications).
International Baccalaureate: 29 points overall.
BTEC Extended Diploma: Distinction, Merit, Merit, or equivalent.
T Level: Merit
Access to Higher Education Diploma: 45 Level 3 credits with a minimum of 112 UCAS Tariff points.
A combination of qualifications which may include A Levels, BTEC, EPQ, etc.
Applicants will also need at least three GCSEs at grade 4 (C) or above, which must include English. Equivalent Level 2 qualifications may be considered.
The University accepts a wide range of qualifications as the basis for entry. We will also consider applicants with extensive and relevant work experience and will give special individual consideration to those who do not meet the standard entry qualifications.

International
---
Non UK Qualifications:
If you have studied outside of the UK, and are unsure whether your qualification meets the above requirements, please visit our country pages https://www.lincoln.ac.uk/home/studywithus/internationalstudents/entryrequirementsandyourcountry/ for information on equivalent qualifications.
EU and Overseas students will be required to demonstrate English language proficiency equivalent to IELTS 6.0 overall, with a minimum of 5.5 in each element. For information regarding other English language qualifications we accept, please visit the English Requirements page https://www.lincoln.ac.uk/home/studywithus/internationalstudents/englishlanguagerequirementsandsupport/englishlanguagerequirements/
If you do not meet the above IELTS requirements, you may be able to take part in one of our Pre-sessional English and Academic Study Skills courses.
https://www.lincoln.ac.uk/home/studywithus/internationalstudents/englishlanguagerequirementsandsupport/pre-sessionalenglishandacademicstudyskills/

If you would like further information about entry requirements, or would like to discuss whether the qualifications you are currently studying are acceptable, please contact the Admissions team on 01522 886097, or email admissions@lincoln.ac.uk

Specialist Facilities
Students on this course have access to a range of specialist equipment, including two multi-channel recording studios for music and drama production; two dubbing theatres for audio post- production for film, TV, games, and animation; three radio production studios; Siren Radio, the on campus community radio station; Brayford Radio, the online student radio station; music rehearsal rooms; and several audio edit suites with an extensive range of editing and audio processing software. High-end mobile kit is available for sound and field recording on location.
All Sound and Music Production students can currently use Pro Tools software and have access to Ableton Live Suite and Adobe Creative Cloud software, including Audition, for the duration of their studies. View our facilities.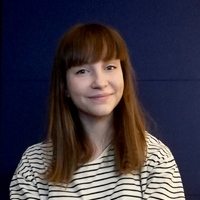 "What I enjoyed the most was learning both theoretical concepts and professional practices. Each assignment allowed a personal approach where I collaborated creatively with students on other courses and outside the University, which helped with developing professional relationships.'
Helena Spychala, BA (Hons), Sound and Music Production graduate
Career Opportunities
This course aims to equip graduates for a wide range of roles in music production, radio, film, and TV, games, animation, mobile and web applications, audio engineering, and audio event management.
Lincoln graduates have gone on to work for the BBC, Channel 4, The Church Studios, Fonic audio post production, Sweet Justice Game Audio, and Sky.
Visit Us in Person
The best way to find out what it is really like to live and learn at Lincoln is to join us for one of our Open Days. Visiting us in person is important and will help you to get a real feel for what it might be like to study here.
Book Your Place