Professor Danny McLaughlin - Associate Dean of Medicine
Professor Danny McLaughlin is the Associate Dean of Medicine at the University of Lincoln, where he leads on all aspects of the early years of the BMedSci and BMBS. Danny's teaching expertise is in physiology, neuroscience/neuroanatomy, and pharmacology.
Academic Staff List
Welcome to BMBS Medicine
This five-year Bachelor of Medicine Bachelor of Surgery (BMBS) Medicine degree aims to develop students into practising doctors. Upon graduation, students will be eligible to register provisionally with the General Medical Council (GMC) and begin work as a doctor on the UK Foundation Programme. Students will be registered with the University of Nottingham and upon successful completion will receive a University of Nottingham degree award.
The University of Lincoln has embarked on an exciting collaboration with the University of Nottingham to offer medical education in Lincolnshire. Students can now apply to study for the University of Nottingham's Medicine BMBS degree based in Lincoln, taught by academic staff from both universities.
Nottingham medicine courses are some of the most popular in the country, offering innovative teaching and early interaction with patients. We aim to ensure that our doctors learn from experience and the course offers a varied placement experience, providing the opportunity to gain hands-on clinical experience through excellent links with local Lincolnshire NHS trusts.
All applications for this course must be made through UCAS. Students will need to apply to the University of Nottingham and choose the Medicine BMBS (Lincoln pathway) as an option.
Applications for 2023 entry will open on UCAS in September 2022. All applications must be made in UCAS by 15 October 2022.
How You Study
This course is split into two phases: the early years, where students can learn the skills and knowledge required to become a doctor and complete a research project leading to a BMedSci; and the later years, called the Clinical Phase, where students put their learning into practice on placements at hospitals and GP surgeries
Students begin the degree by studying the scientific and professional basics of medicine. They are then taught subjects on themes based on overarching clinical problems: specifically respiratory and cardiovascular medicine, the musculoskeletal system, and cancer. There is also the opportunity to reinforce their learning through hospital and general practice visits. In the spring term, students usually have the chance to study an optional module, looking into specific topics in more depth.
The second year continues theme-based teaching, looking into a variety of other clinical problems. In each term students will usually be able to take an optional module which interests them most.
The third year begins with a supervised research project in an area of each student's choice and an accompanying Research Methods module to help with the project. Students are also able to take two optional advanced medical science modules which may or may not be related to the project. Upon successful completion this will lead to the award of BMedSci.
Students will spend a compulsory week in primary care developing skills to assess patients in a general practice environment and participate in a therapeutics module, that aims to develop their prescribing skills before they move into the clinical phases of the programme.
Students then move into the final years and begin the Clinical Phase which will see them rotate through a series of placements at major teaching hospitals and within primary care facilities across the region.
The final two years form the majority of the Clinical Phase. Students rotate through a series of six-week placements at major teaching hospitals and within primary care across the region. These years aim to provide the professional knowledge, skills, values, and behaviours to succeed through direct experience.
During both years students will have the option of student selected modules which can be at home or abroad and will end with a six-week placement of their choice and a medical assistantship to prepare them for the UK Foundation Programme.
During your first three years student can expect approximately 16 to 18 hours of teaching contact time with around 20 hours of independent study. They will spend around five days on placement each term.
During the Clinical Phase students can expect to spend between 35 to 40 hours across five days every week studying and on placements. They spend around two to three days on ward, clinic or GP placement visits per week with one day of independent study and one to two days of teaching contact time. This will include some time on call and some out of hours work.
A full breakdown of course and module content can be found on the University of Nottingham's course pages:
https://www.nottingham.ac.uk/ugstudy/course/Medicine-at-Lincoln-BMedSci+and+BMBS
More information about the Medical School can be found here: https://www.lincoln.ac.uk/home/medicalschool/
What You Need to Know
We want you to have all the information you need to make an informed decision on where and what you want to study. To help you choose the course that's right for you, we aim to bring to your attention all the important information you may need. Our What You Need to Know page offers detailed information on key areas including contact hours, assessment, optional modules, and additional costs.
Alternatives to Medicine
Healthcare plays a central role in the lives and wellbeing of people around the world, and as this fascinating field develops, there are opportunities for professionals from all kinds of backgrounds to play a key role improving the lives of others.
The University of Lincoln offers a wide range of healthcare and health-science related programmes which can provide options to students who wish to make a difference in these areas. This includes subjects such as biomedical science, pharmaceutical science, pharmacy, and nursing. Explore these options and discover the courses available at Lincoln that can help you make a positive impact.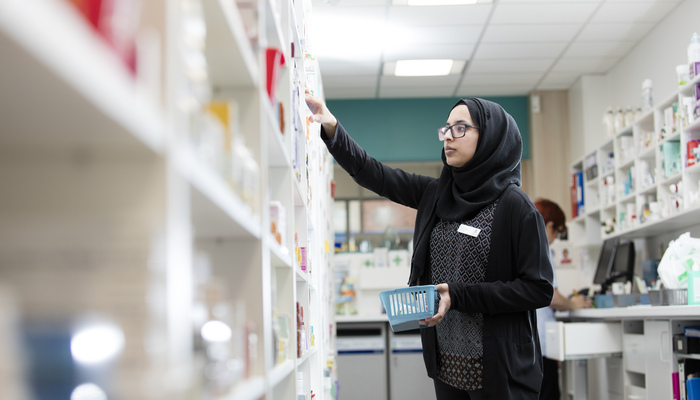 Features
Complete a Bachelor of Medical Sciences (BMedSci) degree in the third year. Student will undertake a supervised research project in an area they find interesting without needing to study for an extra year.
Work with patients in a more rural and coastal setting through regular visits to GPs from as early as your first term in your first year and hospitals in your final years.


Experience placements across Lincolnshire.
Learn at the new Lincoln Medical School.


A case-based learning course which makes use of real patient scenarios and focuses on their key clinical points.


How you are assessed
Assessment methods on this course may vary depending on the module being studied. Assessment methods may include case studies, clinical exams, coursework, a dissertation, examinations, formative assessments, logbooks, objective structured clinical exams, poster presentations, practical exams, presentations, short projects, verbal exams, and workplace-based assessments.
Placements
Students can benefit from established links with the NHS and healthcare providers including Lincolnshire Partnership NHS Foundation Trust sites across Lincolnshire. Students have the opportunity to interact with patients from the first year, through regular visits to general practices and hospitals. Students will also have the opportunity to ask scientists and qualified doctors details of clinical outcomes, and hear more about their working environment.
Currently placements include the following hospitals:
Lincoln County Hospital, Lincoln
Grantham and District Hospital, Grantham
Entry Requirements 2023-24
GCE Advanced Levels: AAA (or AAB contextual offer).
We do not use predicted A level grades and do not score A levels, AS levels, or equivalent as part of our selection process. However, any offers made will be conditional on meeting the A level requirements.
A Level Offer:
AAA, which must include biology (or human biology) and chemistry.
A pass is normally required in science practical tests, where these are assessed separately.
Citizenship studies, critical thinking, general studies, or global perspectives are not accepted as the third A.
Students must study three A levels for two years and meet the entry requirements, however they can take an extra A level a year earlier or later if needed to meet the entry requirements or recommended by their school or college. Please note that we do not usually accept A levels which have taken three years to complete.
We will consider resits for no more than two A levels as long as:
- you have completed your A levels in the last 12 months
- you have already obtained at least ABB with at least one A in biology/human biology or chemistry
- you must achieve AAA after taking your resits

Degree Offer:
You are also able to apply for this course if you already have a degree.
You will need a 2:1 degree in any subject plus the A Level requirements and a minimum of GCSE level 4 (C) in Maths and English Language.
Candidates may apply for medicine during any year of their existing degree studies, you do not need to withdraw. You may continue with your studies while awaiting your new Medicine application outcome. Any exams taken while on the degree will not be taken into consideration. A Levels and GCSEs must therefore meet the requirements as outlined in our standard requirements.
Where a candidate is reliant on their degree for academic entry purposes, they may apply for our course through UCAS at the beginning of their final year with their degree or integrated masters result pending. In these cases, offers to study Medicine will be conditional on candidates achieving the necessary academic requirements. The degree must be an honours degree and the award must be conferred to the University of Nottingham by providing a final transcript no later than 20 July each year.
Degrees must have been completed in the natural length intended for your qualification, for example 3 years for a Bachelor's (like a BSc) or 4 years for an undergraduate Master's (like an MSci).
If you are applying with an undergraduate (Bachelor's or undergraduate Master's) degree, you may not need to meet the standard A Level requirements. We will review this if you have achieved or are predicted to achieve a first class honours degree at undergraduate level in a relevant subject with enough biology and chemistry content. You will still, however, need to have achieved as least a 4 (C) in GCSE in both Maths and English Language. Any offers made without the A Level requirements are conditional on you achieving a first in your primary degree before starting the course.
For more information on which degrees are relevant, please contact us.
Accelerated degrees resulting in the award of a BSc Hons (completed over two years rather than three) may be accepted in lieu of A Levels where a first class has been achieved. We will review these applications on a case-by-case basis. GCSE Maths and English Language must still be achieved at a minimum of C grade. For information on whether your degree is accepted please contact us.
Contextual Offers:
A levels: AAB with at least one A in either biology or chemistry
IB: 35 (6,6,5 at Higher Level including 6 in either biology or chemistry, excluding core component) with the GCSE requirements (or equivalent).
This type of offer is given to students who meet our contextual admissions or elite athlete criteria.
If you meet the requirements for a contextual applicant and you're successful at interview, your offer will then be lowered to the contextual offer of AAB or 35.
Find out more at https://www.nottingham.ac.uk/ugstudy/applying/contextual-offers.aspx.
GCSEs:
If you are applying with A levels or the IB, you must meet the following GCSE requirements unless otherwise stated.
We require a minimum of 6 GCSEs at Level 7 (A).
These 6 GCSEs at Level 7 must include chemistry and biology - or double science if you have not taken the individual science subjects - and may include maths and English language.
If maths and English language are not included in your 6 GCSEs at Level 7, you will need a minimum grade of Level 6 in both subjects.
When selecting for interview, GCSE grades are scored and allocated points. We score a maximum of 8 GCSEs including the required subject grades.
If you are applying with a degree, you must have achieved at least a level 4 (C) in maths and English language.
We do not accept GCSE resits. Where applicants chose to sit their GCSEs examinations for the first time in the Autumn 2020 or Autumn 2021 examination series, we will not consider this as a resit.
We do not accept applied science, short course GCSEs or functional skills for English and maths.
GCSEs taken over multiple years may be accepted for home schooled students as long as they meet the entry requirements.
English Language Requirements:
If English is not your first language, you will need to have proof of your fluency with one of the following:
- IELTS 7.5 (no less than 7.0 in any element)
- Pearson Test of English (Academic) 79 (minimum 76)
- Cambridge Proficiency/Advanced test (from January 2015) 191 with no element below 185
If your home country is not the UK, but you have moved to the UK (with indefinite leave to remain) within two years before taking GCSE English Language or equivalent and did not achieve Level 6 then we will accept one of the alternative qualifications.
Work Experience:
Applicants are usually expected to complete regular work experience when applying for medicine. This can be:
- Volunteering in a care related setting
- Volunteering with disadvantaged groups
- Paid employment in a job working with the general public
As part of your application you will usually be required to provide evidence of your work experience. This may include a description of the experience, dates for when it took place, and a reference contact.
Please note, we are not expecting any NHS work experience to have taken place or be ongoing after March 2020 due to the Covid-19 pandemic. Your application for 2023 entry will not be negatively affected if you've been unable to complete any NHS work experience you had planned. We will however be looking for knowledge of the profession and an understanding of the scope of the role and we may ask about this during your interview.
If possible we'd advise that you speak to someone working in the NHS to ensure you are making an informed choice about your career in medicine. Applicants are expected to demonstrate a commitment to caring for people and a realistic idea of what working as a doctor entails.
Any students considering a gap year should use their time constructively either by working or further preparing yourself for a future career in medicine.
Test:
You must also complete the University Clinical Aptitude Test (UCAT) in the same year you are applying. The BioMedical Admissions Test (BMAT) is not accepted for entry.
For more information, please refer to the UCAT website: www.ucat.ac.uk
There is no fixed UCAT threshold score when selecting for interview. We do not accept applicants who achieve Band 4 on the Situational Judgement Test on the UCAT.
Interviews:
You will be required to have an interview. This usually takes the form of Multiple Mini Interviews (MMI). For 2023 entry, all interviews are likely to be online using Microsoft Teams.
Interviews are offered to candidates based on scores as calculated by our selection process. The percentage threshold varies from year to year based on the number of applicants.
If you meet the entry requirements for the course and have completed the Nottingham Pathways Programme, the Nottingham Potential Summer School, the Nottingham Sutton Trust Summer School, or the Lincoln Medical School Summer School, you will be considered for the interview stage without having to go through the UCAT/GCSE scoring stage of our selection process. However you will still need to sit the UCAT and achieve Band 1 to 3 on the Situational Judgement Test.
The fast track to interview is only applicable to those applying for their first degree.
Find out more at https://www.nottingham.ac.uk/medicine/study-with-us/undergraduate/undergraduate-medicine/undergraduate-selection-process.aspx.
Fitness to Practise:
We must be confident in your conduct, health, and ability to be professional and interact safely with patients. As part of your application you will be required to have an occupational health assessment and a disclosure and barring service (DBS) check. This usually takes place around May or June for Offer Holders.
If we have any serious concerns we will not offer you a place, and reserve the right to revoke offers should serious concerns arise before starting the course.
Find out more at https://www.nottingham.ac.uk/medicine/study-with-us/undergraduate/undergraduate-medicine/fitness-to-study.aspx.
Excluded Students Database:
When offering places to students we check the MSC Excluded Students Database as part of our commitment to professionalism and fitness to practise. We may also ask if you have encountered professionalism issues with other professional bodies such as the Pharmacy Council or the Chartered Society of Physiotherapy. If either we or another medical school have terminated your studies, your details are shared with regulatory bodies and other medical schools through this database.
If you would like more information about entry requirements, or would like to discuss whether the qualifications you are currently studying are acceptable, please contact our enquiries team at enquiries@lincoln.ac.uk or call +44 (0)1522 886644.
Offers
All offers are made subject to being successful at interview, and having an occupational health assessment, DBS clearance, and no fitness to practise issues.

If you are still studying for the required qualifications and your predicted grades meet the entry requirements, offers will be conditional on you achieving those grades.

If you have already met the offer requirements, offers will be unconditional subject to having an occupational health assessment, DBS clearance, and no fitness to practise issues.
Foundation Progression Options
If you don't meet the grades for this course and meet specific criteria, you could apply for our BMBS Medicine with a Foundation Year course. The course is designed to widen access to medicine study, and on successful completion, students will automatically progress to the BMBS Medicine course.
Please note that you cannot apply for both this course and the Foundation Year course.
You cannot use other foundation courses at this university or any other medical school to transfer onto this course.
Fees and Scholarships
Going to university is a life-changing step and it's important to understand the costs involved and the funding options available before you start. A full breakdown of the fees associated with this programme can be found on our course fees pages.
For eligible undergraduate students going to university for the first time, scholarships and bursaries are available to help cover costs. The University of Lincoln offers a variety of merit-based and subject-specific bursaries and scholarships. For full details and information about eligibility, visit our scholarships and bursaries pages.
Course-Specific Funding and Bursaries
For information regarding scholarships and bursaries, visit the University of Nottingham scholarship and bursaries pages:
https://www.nottingham.ac.uk/studentservices/support/financialsupport/bursariesandscholarships/index.aspx
Accreditations and Memberships
Medicine at the Lincoln Medical School is fully accredited by the General Medical Council (GMC) as part of the University of Nottingham's medical courses programme.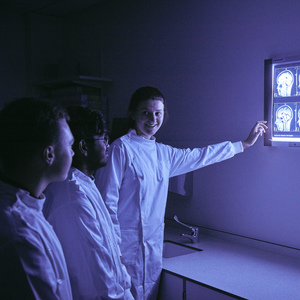 "One aspect of the programme which convinced me to choose Lincoln Medical School was the case-based learning approach. It exposes students to key clinical notes and patient scenarios early in the curriculum and makes the learning experiences very exciting."
Arooj Qaiser, BMBS Medicine student
Career Opportunities
At the end of this course successful students will receive their BMBS degree, which is a primary medical qualification (PMQ). Holding a PMQ entitles students to provisional registration with the General Medical Council, subject only to its acceptance that there are no Fitness to Practise concerns that need consideration.
Graduates are required to undergo a further two years of foundation doctor training. Full registration is granted by the GMC at the end of the first year of this training.
Visit Us in Person
The best way to find out what it is really like to live and learn at Lincoln is to join us for one of our Open Days. Visiting us in person is important and will help you to get a real feel for what it might be like to study here.
Book Your Place