Dr Clare Miller - Programme Leader
Dr Miller's research interests encompass a broad range of topics relevant to the field of microbiology. This includes using a range of microscopy techniques to visualise bacteria and study interactions between antimicrobial agents and bacterial cells. She is also interested in the dissemination of microbiological information, particularly bacteria and antibiotic resistance, through traditional and social media.
Academic Staff List
Make an Enquiry
Welcome to MSc Microbiology
The MSc Microbiology aims to equip students with the advanced knowledge and skills required to embark on further research or employment in industries striving to solve major global challenges such as antibiotic resistance, clean drinking water, and food security.
The programme is designed to provide the theoretical knowledge, understanding, and practical skills needed for a solid grounding in core and applied microbiology, along with the transferable skills which are essential to enhance students' employability options. It aims to prepare graduates for a broad range of careers within industrial, commercial, government, and environmental settings, or further postgraduate study.
During the course, students can investigate diverse areas of microbiology which are of concern to the healthcare, environmental, ecological, and biotechnological sectors. There is also the chance to undertake research in relation to medical, environmental, or industrial microbiology, which can further advance knowledge, skills, and career options.
Staff offer expertise in medical, industrial, and environmental microbiology, molecular, cell and system biology, recombinant DNA technology, protein biochemistry, structural biology, fermentation, bioengineering, among others. Students can hear from external guest speakers working in the industry and from other schools across the University.
How You Study
The programme includes a combination of lectures, workshops, laboratory practicals, seminars, problem-based-learning group sessions, independent learning, and research projects. The programme also has a major emphasis on the development of professional and research skills, which can enhance employability.
The first term features modules that have been designed to provide students with core theoretical knowledge on current microbiology topics and practical training on techniques used in modern microbiology.
Modules:
- The Microbial World
- Molecular Virology
- Identification of Infectious Diseases
- Professional and Research Skills in the Biosciences
The second term builds on the modules studied in the first and aims to enhance practical skills and provide specialist training in medical, industrial, and environmental microbiology.
Modules:
- Infection and Control
- Industrial and Environmental Microbiology
- Fermentation Biotechnology
- Professional and Research Skills in the Biosciences (continues from term one)
Students then progress to an independent research project within a microbiological discipline over the summer. Students choose from a broad range of topics for their research projects which vary from year to year. Typical projects are in the areas of medical, industrial, and environmental microbiology; molecular, cell, and system biology; recombinant DNA technology; protein biochemistry; structural biology; fermentation; and bioengineering.
Weekly contact hours on this programme vary depending on the module being delivered and the stage of study. Postgraduate level study involves a significant proportion of independent study, exploring the material covered in lectures and seminars. For every hour spent in class, students are expected to spend at least two to three hours in independent study. For more detailed information please contact the Programme Leader.
Please note that this course is only available in the full-time format.
An Introduction to Your Modules
---
† Some courses may offer optional modules. The availability of optional modules may vary from year to year and will be subject to minimum student numbers being achieved. This means that the availability of specific optional modules cannot be guaranteed. Optional module selection may also be affected by staff availability.
BGY9007M
Level 7
2023-24
This module aims to provide specialised training in larger scale growth and utilisation of microbial and cell cultures. Lectures, practicals and workshops will focus on the analysis of growth kinetics and product yield optimisation with the aim of providing insight into historical and cutting-edge large-scale implementation of these biotechnologies. The practical component of this module provides students with the chance to propose and carry out their own fermentations.
Core
MBI9001M
Level 7
2023-24
This module aims to reinforce the underlying concepts and principles of identification of infectious diseases developed through the students existing knowledge of basic microbiology and medical microbiology. Students are expected to become familiar with diagnostic and identification techniques involved in the field of clinical microbiology, and be able to apply developing knowledge and skills in molecular biology to contemporary issues and concerns in the field of microbiology.
Core
BGY9013M
Level 7
2023-24
The research projects run over the summer, although elements of them are likely to take place in the second term (research plan and literature review). Students are able to choose a research topic from a very broad spectrum of options, primarily linked to the research focuses of the teaching staff. Supervisors of the projects will provide outline projects but students will also have the opportunity to develop their research projects in specific directions relating to their individual interests.
Core
MBI9003M
Level 7
2023-24
This module aims to describe the applications of microbiology in industrial and environmental processes. The industrial aspect of the module emphasizes how microbiological knowledge and understanding can be used to improve commercial processes relevant to industries such as food production and water treatment. The environmental aspect of the module considers the role of microbial communities, interactions, and processes in the environment.
Core
MBI9002M
Level 7
2023-24
This module aims to enable students to understand the microbiological and environmental factors that contribute to the incidence, prevalence, transmission and control of healthcare-associated and communicable infection. The theory underpinning this module will be supported by key current examples of infectious diseases. Some key theories discussed will be microbial pathogenesis, prevention and treatment of infectious disease, alongside case studies and consideration of the role of professional bodies.
Core
MBI9004M
Level 7
2023-24
This module will examine the molecular interactions between viruses and host cells with a focus on the mechanisms by which viruses subvert host cell processes. This will involve the use of example viruses from both the DNA and RNA groups of viruses. The roles of virus infections in inflammatory diseases, oncology, as well as emerging diseases will be considered.
Core
BIO9029M
Level 7
2023-24
The module focuses on the development of transferable skills that are applicable both professionally and to research projects, within the programme of study and beyond. The skills will be relevant to the broad life and environmental sciences and will allow students to strengthen their proficiency primarily in these areas: scientific writing and communication skills, research data analysis and presentation, professional and career skills.
Core
MBI9005M
Level 7
2023-24
This module aims to equip students with core practical and writing skills and to introduce them to selected advanced concepts illustrating the depth of understanding expected at Master's level, building on their undergraduate experience. The module covers core lab and writing skills, the diversity of microbial life, growth and reproduction alongside relevant areas of biochemistry, genetics, ecology and evolution.
Core
How you are assessed
Assessment is conducted through coursework and examination. Coursework includes literature reviews, oral presentations, poster presentations, laboratory reports, and short video assessments. The final assessments are the preparation of a research dissertation for your research project and an associated presentation.
Specific training on each form of assessment is included in the programme, with the aim of improving your performance as a postgraduate student as you progress.
The University of Lincoln's policy on assessment feedback aims to ensure that academics will return in-course assessments to students promptly - usually within 15 working days of the submission date.
Special Features
The School has links with NHS practitioners including consultant microbiologists and experts from other industries who regularly provide guest lectures as part of the taught modules.
Students can conduct practical work with industry-standard apparatus. Equipment and facilities available for students undertaking research projects include a cell culture suite, analytical chemistry instrumentation, protein purification equipment, a scanning electron microscope and real-time polymerase chain reaction equipment for the amplification and quantification of DNA samples.
This programme is linked with the Microbiology and Biotechnology research group at the University: https://www.lincoln.ac.uk/home/lifesciences/research/microbiologyandbiotechnology/.
Fees and Funding
For eligible students, there are more ways than ever before to fund your postgraduate study, whether you want to do a taught or research course. For those wishing to undertake a Master's course, UK students can apply for a loan as a contribution towards the course and living costs. Loans are also available to those who wish to undertake doctoral study. The University offers a number of scholarships and funded studentships for those interested in postgraduate study. Learn how Master's and PhD loans, scholarships, and studentships can help you fund your studies on our Postgraduate Fees and Funding pages.
Programme-Specific Additional Costs
For each course you may find that there are additional costs. These may be with regard to the specific clothing, materials or equipment required. Some courses provide opportunities for you to undertake field work or field trips. Where these are compulsory, the cost for travel and accommodation will be covered by the University and so is included in your fee. Where these are optional, you will normally be required to pay your own transport, accommodation and general living costs.
With regards to text books, the University provides students who enrol with a comprehensive reading list and you will find that our extensive library holds either material or virtual versions of the core texts that you are required to read. However, you may prefer to purchase some of these for yourself and you will be responsible for this cost.
International Applications
Please note that this programme is now closed for international applications for September 2023 entry.
Entry Requirements 2023-24
First or second class honours degree in a relevant subject.
Students' undergraduate backgrounds may be in a wide range of subjects including, but not limited to, biology, biochemistry, biomedical science, bioveterinary science, forensic science or microbiology. If you are unsure if your background is suitable, please get in touch with the Programme Leader.
If you have studied outside of the UK, and are unsure whether your qualification meets the above requirements, please visit our country pages for information on equivalent qualifications.
https://www.lincoln.ac.uk/home/studywithus/internationalstudents/entryrequirementsandyourcountry/

Overseas students will be required to demonstrate English language proficiency equivalent to IELTS 6.0 overall, with a minimum of 5.5 in each element. For information regarding other English language qualifications we accept, please visit the English Requirements page.

https://www.lincoln.ac.uk/home/studywithus/internationalstudents/englishlanguagerequirementsandsupport/englishlanguagerequirements/
If you do not meet the above IELTS requirements, you may be able to take part in one of our Pre-session English and Academic Study Skills courses. These specialist courses are designed to help students meet the English language requirements for their intended programme of study.
https://www.lincoln.ac.uk/home/studywithus/internationalstudents/englishlanguagerequirementsandsupport/pre-sessionalenglishandacademicstudyskills/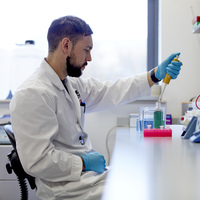 "Both challenging and nurturing, the MSc Microbiology at Lincoln is the perfect choice for anyone wishing to develop a career in this field."
Dale Handley, MSc Microbiology graduate
Career Opportunities
The overall aim of the MSc Microbiology degree is to provide students with the chance to develop knowledge and practical skills in the cross-disciplinary applications of microbiology that are relevant to science and society. This includes the healthcare sector which is particularly interested in the control, treatment, and prevention of infectious disease, as well as environmental and ecological sectors which are interested in microbial communities, interactions, and processes in the environment. These sectors also have relevant industrial applications with a diverse range of career options that may be accessible to graduates from the MSc Microbiology.
The programme also looks to provide students with experience of undertaking microbiology-related research, in particular in relation to medical, environmental, or industrial microbiology. Course content is research-engaged and, in particular, students have the chance to undertake a period of independent scientific research.
This is designed to equip graduates with the necessary theoretical understanding, practical, research, professional, and transferable skills to undertake further postgraduate training (PhD level) or employment within academic research and in industrial, commercial, government, and environmental settings.
Postgraduate Events
Find out more about how postgraduate study can help further your career, develop your knowledge, or even prepare you to start your own business at one of our postgraduate events.
Find out More