Dr Simon Clegg - Programme Leader
Dr Simon Clegg joined the University of Lincoln in 2017 as a Lecturer in Animal Health and Disease, and is continuing with research on farm animal diseases. He is now the Programme Leader for Bioveterinary Science and specialises in animal diseases, molecular microbiology, and phylogenetics.
Academic Staff List
Welcome to MBio Bioveterinary Science
The MBio Bioveterinary Science degree at Lincoln gives students the opportunity to explore the science that underlies animal health and disease.
The degree combines key concepts in animal science with relevant laboratory, field, and computer analysis. Students are introduced to the processes surrounding animal health including life histories of pathogens and parasites, infection and immunity, preventative measures, diagnosis, and treatments. There is the opportunity to study these issues in a range of animal species, including exotic, companion, livestock and wild animals, as well as in humans.
Students also have the option of a field trip in their third year as part of the optional 'Overseas Field Course' module.
The fourth year of the MBio Bioveterinary Science degree is an additional research-intensive final year, after the three-year BSc. This is an opportunity to progress to Master's level and prepare for opportunities in competitive job markets.
How You Study
The first year of the degree introduces health and disease in the context of animal anatomy and physiology, cell biology, genetics, and the biochemistry of metabolism.
The second year builds on this, with further specialist study of animal health and disease, also providing the opportunity for students to pursue individual interests within a wide range of topics, including animal behaviour, protection, toxicology, and reproduction.
In the third year, students embark upon individual research projects and are provided the opportunity to travel overseas to participate in research field trips as part of the optional Overseas Field Course module. Further specialist modules including Control of Animal Disease and Veterinary Parasitology can be chosen to complete the third year.
The fourth year of the MBio Bioveterinary Science degree is an additional research-intensive final year, after the three-year BSc. This is an opportunity to progress to Master's level and prepare for opportunities in competitive job markets.
Students undertaking research projects have access to a range of advanced facilities including equipment for cytometry and confocal microscopy, as well as a bioacoustics lab. Our animal behaviour laboratory includes aquatic and reptile provision alongside an insectary.
What You Need to Know
We want you to have all the information you need to make an informed decision on where and what you want to study. To help you choose the course that's right for you, we aim to bring to your attention all the important information you may need. Our What You Need to Know page offers detailed information on key areas including contact hours, assessment, optional modules, and additional costs.
An Introduction to Your Modules
---
† Some courses may offer optional modules. The availability of optional modules may vary from year to year and will be subject to minimum student numbers being achieved. This means that the availability of specific optional modules cannot be guaranteed. Optional module selection may also be affected by staff availability.
BIO9029M
Level 7
2023-24
The module focuses on the development of transferable skills that are applicable both professionally and to research projects, within the programme of study and beyond. The skills will be relevant to the broad biosciences and will allow students to strengthen their proficiency primarily in these areas: scientific writing and communication skills, research data analysis and presentation, professional and career skills.
Core
ZOO1001M
Level 4
2023-24
Comparative Anatomy and Physiology of Animals is concerned with the principles of the diversity of anatomical form and function in animals using a comparative approach. Anatomical adaptations will be explored across taxa within the animal kingdom in order to show how different types of organisms use their anatomy to solve the similar physiological problems. Through this, an understanding will be developed of how organisms from different taxa address physiological aspects of their life histories.
Core
BMS1074M
Level 4
2023-24
Health and Disease provides an introduction to health and how health is disrupted by disease and disorder. Students will apply their knowledge of anatomy and physiology to help understand the underlying aetiology and clinical presentation of key communicable and non-communicable diseases.
Core
BIO1040M
Level 4
2023-24
This module aims to introduce the principles underlying animal behaviour and the welfare of animals in our care. It will adopt approaches derived from Tinbergens levels of explanation of behaviour, such as control, lifetime development and adaptive value of behaviour. Students will have the opportunity to be taught how to observe and record the behaviour of animals from a range of taxonomic groups. The module will introduce approaches to animal welfare assessment and their application.
Core
BIO1043M
Level 4
2023-24
Introduction to the Life Sciences is designed to provide a foundation for students to develop their knowledge and understanding of fundamental cell biology, biochemistry and genetics in the context of life sciences.
Core
BGY1012M
Level 4
2023-24
Research methods for the Life Sciences aims to introduce the skills and knowledge necessary for students to assimilate and judge scientific knowledge. Students will be introduced to the tools required to search and evaluate the scientific literature relevant to their studies, and some of the key philosophical constructs around which scientific knowledge is based. They will be taught about hypothesis testing, experimental design, data collection, basic mathematical and statistical concepts, and data presentation, and gain hands-on experience of their application.
Core
BVS2003M
Level 5
2024-25
This module covers some aspects about animal health and disease. In particular, diseases of a wide variety of different animals, and the impacts which they pose to the animals, and humans. This will also include some levels of disease treatments, and control, and discuss different methods of these. Functional animal nutrition of various species to prevent disease and maintain optimal health, as well as how diseases can affect behaviour will also be included.
Core
BGY2011M
Level 5
2024-25
Data-centric skills are crucial for any life scientist undertaking any form of data collection, management, visualisation, and/or analysis. This module introduces students to skills in data storage, handling, and manipulation; understanding different data types; visualising data; fitting statistical and analytical models; interpreting and reporting statistical and analytical results; and using these skills in experimental designs. In the age of information, computational skills are becoming ever more relevant, and this module will hone different computational skills. All these skills can aid students in undertaking future research projects, including the third-year honours project.
Core
BMS2010M
Level 5
2024-25
This module is concerned with the study of the mechanisms by which drugs interact with biochemical, cellular, and physiological systems. The module aims to: - provide an introduction to key pharmacology principles - provide a detailed knowledge of the mechanisms of actions of selected drugs - develop a critical appreciation of the importance and relevance of pharmacology in the treatment of diseases - develop an understanding of the principles of toxicology and drug overdose
Core
BGY2002M
Level 5
2024-25
This module provides an overview of the cellular and molecular basis of the immune response in health and human diseases. The structure, function and complex mechanisms of host defence by B- and T-Cells will be discussed. Students will evaluate the role of inflammatory mediators, soluble effectors, and cellular cytotoxicity in inflammation and immunity.
Core
BGY2003M
Level 5
2024-25
Molecular biology is of critical importance when understanding biological systems. This module is designed to provide students with an insight into the techniques used and applied by molecular biologists in a number of specific contexts. The module will explore the origins of molecular life on Earth, before examining the molecular control of eukaryotic replication, transcription and translation. The focus will then move to in vitro experimentation including DNA isolation, amplification, sequencing and manipulation; before looking at applications of molecular biology and how they can be applied to our understanding of population genetics and health and disease
Core
BIO2033M
Level 5
2024-25
This module is based on the four ethological levels of explanation for animal behaviour as introduced by Nikolaas Tinbergen, one of the fathers of ethology, in the 1960's: mechanism, development, function and evolution. It will deal primarily with the ethological concepts underlying the study of animal behaviour supported by classic experimental studies of domestic and wild animals from a wide range of taxonomic groups. The module will also cover the design, data collection, analyses and interpretation of behavioural studies in a variety of species both in the laboratory and in zoo
Optional
BIO2037M
Level 5
2024-25
This module explores the regulation and enforcement of animal protection including the background and need for legislation relating to animals, the scientific, political and legal procedures involved in forming legislation and how citizens may become involved in that process. Students develop critical analytical skills through the interpretation and application of legal frameworks as well as the evaluation of the research background underpinning the law. Students also learn to develop and present arguments used in decisions regarding animal protection
Optional
BMS2032M
Level 5
2024-25
The module provides an overview of the main principles of clinical biochemistry and its role in diagnostics and monitoring of patients. It enables students to discuss endocrine disease as well as liver, respiratory, gastrointestinal, vascular, bone and renal disease. It will also cover key techniques used in diagnosis and clinical research.
Optional
BIO2110M
Level 5
2024-25
The School believes that an option to study overseas is a valuable educational opportunity for our students. Provision of this option supports the educational aims of the School of Life Sciences and enhances the distinctiveness of its degrees at Lincoln. The optional year is intended to: - enable students to benefit from studying within a cross cultural environment; - expose students to a wider academic and cultural experience; - enhance their future employment opportunities; - by increasing their cultural and professional mobility. This module is optional for students within the School. Study Abroad is a year long module which enables students to spend a year studying abroad at one of the Universitys approved partner institutions. Eligible students must have completed their second year of study to a satisfactory standard and successfully completed the application process for the year abroad. During the year spent abroad, students share classes with local students and study on a suite of locally-delivered taught modules which have been approved in advance by the University. Upon their return, as part of the assessment for this modules, students are required to critically reflect upon their experience of living and studying in a different cultural environment and the skills acquired.
Optional
BMS2014X
Level 5
2024-25
Optional
BVS3006M
Level 6
2025-26
The module aims to provide an understanding of the control of infectious disease in companion and animals, livestock species and wildlife. The module will explore practical control measures for diseases of animals, building explicitly on the knowledge and understanding gained in other modules. Particular areas of study will include: - Nature and examples of important infectious pathogens - Host Responses to Infectious Pathogens - Control of disease at the level of the individual and population - Manipulation of transmission dynamics - Biosecurity and husbandry - Treatment of disease - Breeding or engineering genetically resistant animals - Vaccination and design of novel vaccines. These topics will be addressed in a holistic way that encourages students to be able to design and implement control strategies for known and emerging diseases. This ability will be explicitly tested in coursework and an oral examination.
Core
BGY3003M
Level 6
2025-26
In this module, students undertake an independent programme of research under supervision from a member of staff. It provides students with an opportunity to demonstrate original and critical thought, as well as to build discipline-specific research and project-management skills. A wide range of subject expertise exists within the School, and students are expected to work on a project that is relevant to their programme of study. Under the guidance of a supervisor, students will review the literature, identify a research question/aim and objectives, and design a programme of research respectively. Students will be expected to manage the project and work in a safe and ethical manner, which will include undergoing training in and engaging with obtaining relevant ethical approval and risk assessment. Students will collect and analyse data, record their activities and research methodology and results in a lab book/ equivalent robust means of recording. We currently offer projects in the laboratory (wet or animal) or field, projects that involve data analysis, literature research, educational research, science communication research and market research. Students may work individually or in groups addressing similar questions, but must write up individually. The findings of the research will be written up and presented orally. The conduct and performance of the student as a research apprentice will be assessed.
Core
BMS3035M
Level 6
2025-26
Our understanding of human disease is constantly evolving and this increased knowledge is presenting new opportunities to better therapeutically target and treat these diseases. As such, this module will focus on investigating the latest cutting-edge treatments being used by the NHS now and into the future to treat disease, discuss the ethics associated with bringing these into practice, evaluate the successfulness and limitation of these approaches, and explore where future development is needed to fully realise their potential.
Optional
BIO3204M
Level 6
2025-26
This module explores the scientific study of animal cognition and welfare, with particular attention focused on experimental design, methodological considerations, and interpretation. It will cover the objective assessment of animal cognition and welfare with research examples from both wild and captive animals.
Optional
BMS3036M
Level 6
2025-26
The blood sciences module will provide a deep understanding of this emerging, mixed-disciplinary field incorporating areas including clinical biochemistry, haematology and blood transfusion. This module will develop knowledge of the role of clinical biochemistry and immunology laboratories in the functional diagnosis and monitoring of endocrine function, allergy and autoimmunity. In addition, you will gain an understanding of the different haemopoietic systems within the body and the techniques used within NHS haematology laboratories to monitor these. A range of diagnoses that are enabled through the analysis of blood will be explored, including erythrocyte disorders, haemoglobinopathies, coagulation disorders and leukaemia. We will also discuss the role of transfusion in both treatment and management of diseases. Specific focus will be placed on the importance of blood group matching, donor selection, and blood processing/testing. Furthermore, we will also discuss immunohaematology and techniques used for detection and identification of antigens and antibodies; to enable students to evaluate adverse transfusion effects as well as the transfusion-transmitted diseases.
Optional
BMS3037M
Level 6
2025-26
This module provides an overview of the role of cellular pathology in the diagnosis and monitoring of malignant and non-malignant diseases. This module intends to evaluate the normal and abnormal histology and ultra-structural features of human cells and tissues. The module enables students to appraise malignant and non-malignant cytology, and critically evaluate the role of multiple research and diagnostic techniques; ie. electron microscope and immunocytochemistry in pathological differential diagnosis. The module aims to enable students to understand and critically evaluate different methodologies of cancer treatment, how cancer drug resistance evolves, and investigation of the role of personalised medicine for optimum patient treatment/outcomes.
Optional
BGY3002M
Level 6
2025-26
The module provides an overview of the applications of genetics and its ethical and social considerations with an introduction to ethical philosophy. This module also intends to discuss genetic counselling, diagnosis of genetic disease, carrier detection, and pre-symptomatic testing. The module enables students to evaluate population screening, and community genetics for single gene and chromosome disorders and also the ethical and social considerations of the understanding of the human genome, the treatment of genetic diseases, gene therapy, and the ethics of experimental animal use.
Optional
BGY3010M
Level 6
2025-26
This module will build on the knowledge and understanding of microbiology and animal disease gained previously at L2. The module aims to develop students understanding of the One Health approach to human and veterinary diseases, including protecting animal and human populations from infectious agents recently introduced through cross species transmission.
Optional
BIO3031M
Level 6
2025-26
This module provides students with the opportunity to investigate biological phenomena in the field at an overseas location. Students work in groups, guided by staff, to develop and test hypotheses allowing them to understand more about biological processes operating within the study area. They are encouraged to view the ecosystem within the wider context of the anthropogenic impacts being imposed on it. This module is optional and courses run subject to sufficient student demand. Students who opt to undertake a field trip overseas will be expected to cover transport costs (including flight costs). These costs will vary depending on the location of the field trip. Accommodation and meals at the field sites are fully funded by the University. Students may be required to pay for overnight stays, local travel, and food close to the destination if their flights arrive the day before the team are scheduled to meet. Students may bring personal items of clothing and travel equipment, some of which may be specialised for the environment they are travelling to, and recommended medicines and travel toiletries such as anti-malaria medication, vaccinations, insect repellent, and sunscreen. These costs will depend on what students choose to bring.
Optional
BGY3007M
Level 6
2025-26
At the interface between Earth and Life Sciences, Palaeobiology is the study of all aspects of the biology of extinct biota and their relations to the physical environments in which they lived. The discipline documents and explains patterns and processes governing past Life, and is key to our understanding of evolution in deep time and up to the present. Fossils are the currency of Palaeobiology. Their unique and fundamental contribution is their ability to provide measurable models of anatomical, functional, and ecological change over millions of years of evolution. Natural selection theory predicts that organism diversity results from species interacting with each other and with their environments. Consequently, fossils are the natural time capsules preserving the historical record of faunal and floral successions on our planet. This record unravels the pathways through which traits observed in extant organisms are selected for, elucidates models of biodiversity rises and falls, and casts light on the complex relationships between the geosphere and the biosphere. Palaeobiology tackles some of the most challenging and engaging topics of modern biology, including the emergence of biodiversity, patterns of recovery, and expansion of ecosystems and species in the aftermath of profound crises (such as mass extinctions), and the interplay between originations and extinctions in shaping the Tree of Life. This module aims to enable students to comprehend the thrust and scope of fossil-based research, progressing from basic observations to formulation of complex macro-evolutionary inference. Palaeobiology is eminently interdisciplinary, absorbing concepts and methodologies from numerous other fields and providing tools and knowledge of wide use to other biologists, particularly those interested in tempo and mode of evolution and the comparative method.
Optional
BVS3005M
Level 6
2025-26
The impact of parasites to the health, welfare, and productivity of animals remains one of the most important issues in veterinary biology. A detailed understanding of the biology and epidemiology of parasites and the association they have with their hosts is vital in protecting and improving animals health and welfare. This module aims to provide a theoretical background for understanding the specialised features that parasites have developed to adapt to their host and transmit between hosts, the diseases which result, and advances in treatment and prevention of infection. Students can also learn analytical laboratory methods for the identification of different types of ecto- and endoparasites. Case studies will be used to illustrate how the current advances in research are applied to understand and inform the epidemiology, control, and prevention of parasite mediated disease in animals and monitor emergent diseases globally and within the UK.
Optional
BIO9017M
Level 7
2026-27
This module comprises a research project for the MBio suite of programmes. The project is supervised by a member of the Life Sciences academic staff and provides the opportunity to contribute to high-impact research across a variety of research areas. The projects are set within one of the School's research groups and can be enhanced by research workshops and transferable skills offered in the accompanying modules. Projects present the opportunity of work towards generating a scientific article of publishable quality.
Core
BIO9018M
Level 7
2026-27
This module centres on workshops in research techniques which are delivered by supervisors of research projects. Workshops will be delivered approximately fortnightly throughout Semesters A and B. The workshops are split into three broad research areas: Animal Behaviour, Cognition and Welfare; Biomedical (including general Biochemical and Cellular), and Evolution and Ecology. Workshops combine demonstrations with hands-on work in-lab or in-field. Students are offered a choice of workshops from an extensive list of options, and the write up of six of these will form the basis of assessment.
Core
Study Animals in the Wild
Students can participate in a fully-funded residential field trip in the UK, enabling them to study animals and plants in the wild. There is also an overseas field trip in the third year. Destinations may vary, but have previously included the cloud forests of Ecuador, the Mankwe Wildlife Reserve in South Africa, and Peniche in Portugal.
This optional module in the third year provides the opportunity to do research in a novel environment and to study local plants and animals. Destinations may vary, but have previously included the cloud forests of Ecuador, the Mankwe Wildlife Reserve in South Africa, and Peniche in Portugal.
Students who opt to undertake a field trip overseas will be expected to cover transport costs (including flight costs). These costs will vary depending on the location of the field trip. Accommodation and meals at the field sites are fully funded by the University.
Students may be required to pay for overnight stays, local travel and food close to the destination if their flights arrive the day before the team are scheduled to meet. Students may bring personal items of clothing and travel equipment, some of which may be specialised for the environment they are travelling to, and recommended medicines and travel toiletries such as anti-malaria medication, vaccinations, insect repellent and sunscreen. These costs will depend on what students choose to bring.
Informed by Research
The course is taught by our team of experienced academics, including staff at the forefront of their fields of research, such as Associate Professor Colin Butter and Dr Simon Clegg. Staff contribute to government advisory bodies, offer industrial consultancy, publish in international journals and contribute to academic books.

The Department hosts a Royal College of Veterinary Surgeons approved Behaviour Speciality Clinic, run under the direction of one of only two current RCVS recognised specialists in Veterinary Behavioural Medicine. This supports our internationally recognised research in companion and farm animal behaviour and welfare, behavioural consultancy, and problem behaviour management.
How you are assessed
The way students are assessed on this course may vary for each module. Examples of assessment methods that may be used include coursework, such as written assignments, reports or dissertations; practical exams, such as presentations, performances or observations; and written exams, such as formal examinations or in-class tests
The University of Lincoln's policy is to ensure that staff return assessments to students promptly.
Fees and Scholarships
Going to university is a life-changing step and it's important to understand the costs involved and the funding options available before you start. A full breakdown of the fees associated with this programme can be found on our course fees pages.
For eligible undergraduate students going to university for the first time, scholarships and bursaries are available to help cover costs. The University of Lincoln offers a variety of merit-based and subject-specific bursaries and scholarships. For full details and information about eligibility, visit our scholarships and bursaries pages.
Entry Requirements 2023-24
United Kingdom
---
A Level: ABB, to include a grade B in Biology or Chemistry (128 UCAS Tariff points from a minimum of 3 A Levels or equivalent qualifications).
International Baccalaureate: 32 points overall to include Higher Level grade 5 in Biology or Chemistry.
BTEC Extended Diploma in Animal Management/Applied Science*: Distinction, Distinction, Merit or equivalent.
*not all modules are accepted. Please contact our Admissions team for further information (admissions@lincoln.ac.uk).
BTEC Diploma Applied Science acceptable with other qualifications. Please contact our Admissions team for further information (admissions@lincoln.ac.uk).
Access to Higher Education Diploma: 45 Level 3 credits with a minimum of 128 UCAS Tariff points, including 40 points from 15 credits in Biology or Chemistry.
A combination of qualifications which may include A Levels, BTEC, EPQ, etc.
Applicants will also need at least three GCSEs at grade 4 (C) or above, which must include English, Maths and Science. Equivalent Level 2 qualifications may also be considered.
The University accepts a wide range of qualifications as the basis for entry. We will also consider applicants with extensive and relevant work experience and will give special individual consideration to those who do not meet the standard entry qualifications.
International
---
Non UK Qualifications:
If you have studied outside of the UK, and are unsure whether your qualification meets the above requirements, please visit our country pages for information on equivalent qualifications.
https://www.lincoln.ac.uk/home/studywithus/internationalstudents/entryrequirementsandyourcountry/
EU and Overseas students will be required to demonstrate English language proficiency equivalent to IELTS 6.0 overall, with a minimum of 5.5 in each element. For information regarding other English language qualifications we accept, please visit the English Requirements page.
https://www.lincoln.ac.uk/home/studywithus/internationalstudents/englishlanguagerequirementsandsupport/englishlanguagerequirements/
If you do not meet the above IELTS requirements, you may be able to take part in one of our Pre-sessional English and Academic Study Skills courses.
https://www.lincoln.ac.uk/home/studywithus/internationalstudents/englishlanguagerequirementsandsupport/pre-sessionalenglishandacademicstudyskills/

For applicants who do not meet our standard entry requirements, our Science Foundation Year can provide an alternative route of entry onto our full degree programmes:
https://www.lincoln.ac.uk/home/course/sfysfyub/lifesciences/
If you would like further information about entry requirements, or would like to discuss whether the qualifications you are currently studying are acceptable, please contact the Admissions team on 01522 886097, or email admissions@lincoln.ac.uk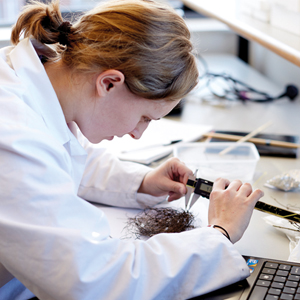 "The absolute highlight of my time at university was the chance to take the overseas field course module. I opted to go to South Africa, which was a once-in-a-lifetime opportunity."
Corinne Woodcock, BSc (Hons) Bioveterinary Science graduate
Career Opportunities
This course aims to prepare graduates for a range of careers in animal-related professions. These include roles in research and development, technical support, and sales of animal pharmaceuticals, vaccines, and nutrition products, as well as in animal health, laboratory diagnostics, toxicology, forensics, wildlife parks, and zoos. Many students continue to study at PhD level, and some go on to veterinary medicine.
Visit Us in Person
The best way to find out what it is really like to live and learn at Lincoln is to join us for one of our Open Days. Visiting us in person is important and will help you to get a real feel for what it might be like to study here.
Book Your Place