Finding Solutions Together
The University of Lincoln has a wide range of disciplines and specialisms, offering businesses the opportunity to tap into a wealth of sector-specific knowledge, experience, and expertise. Your organisation could partner with a University of Lincoln academic to develop a product, service, or solution to help your business to grow.
Our Commercial teams will work to understand your requirements and then partner you with the academic(s) best placed to offer support. They'll ensure each project is efficiently managed, handling all the administrative, contractual, and financial processes.
What Can Academic Consultancy Involve?
Applying technical expertise to industry challenges
Advising on process to deliver a project or improve productivity
Providing expert analysis and interpretation of data or research results
Acting as an expert witness
Carrying out viability investigations on development projects
Giving technical and creative expertise and solutions to industrial problems
Conducting a literature review
Briefing on policy
Serving on committees and advisory boards
What Are the Potential Benefits to Your Business?
Move forward with confidence in new projects
Solve challenges before they become barriers
Uncover new opportunities for growth
Co-produce new innovations
Gain intellectual property
Validate your policies
Embed a culture of innovation and productivity
Access our facilities and wider business services
Upskill your workforce
"

Accessing academic expertise has allowed us to develop our business in a unique way. Through the Productivity Programme we were able to work with a University of Lincoln academic with the knowledge and expertise to help us create a Carbon Footprint Tool, the first of its kind for our industry. The academic was happy to work with both ourselves and an environmental company to develop the tool. The process was straightforward and communication was brilliant. I would highly recommend this programme.

"
- Ellie Good, Head of Sustainability, Reuseabox
The Productivity Programme for Greater Lincolnshire
SMEs in Greater Lincolnshire may be able to access Productivity Vouchers, redeemable for access to academic expertise and technical facilities, via the Productivity Programme for Greater Lincolnshire. The aim of the vouchers is to support businesses by addressing a specific need to drive forward a new idea, product, process, or service. They provide up to 16 days of support and are fully funded through the European Regional Development Fund (ERDF), with no financial cost to the business.
If you are an SME in the region seeking academic support, please get in touch via our dedicated Productivity Programme website. You can also contact our Business Development Officer for the Programme, Charli Whittaker, via cwhittaker@lincoln.ac.uk.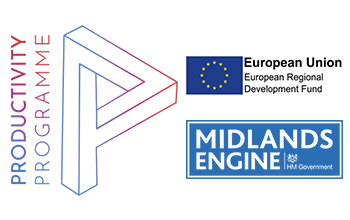 "This training has changed the way I practise. It has allowed me to focus on individuals' strengths and help them to utilise this to make therapeutic gains. It was tailored perfectly for our needs and was so applicable to my job role. The trainer was extremely knowledgeable and made it so enjoyable and engaging."
- Manager, Allied Health Professionals, Lincolnshire Community Health Services NHS Trust