Research in the School of Psychology
The School of Psychology has a strong and growing reputation for excellent fundamental and applied research with international impact.
Our research is supported by a wide range of funding bodies, published in top-ranking journals and presented at international conferences. The school fosters a vibrant and outward facing culture and encourages members of the public and non-academic organisations to become partners and collaborators in our research.
Postgraduate research students are placed at the heart of research activity in the school with many students supported through full or part funded studentships and assistantships.
Autism Research Innovation Centre
ARIC's mission is to create a diverse and inclusive environment where community knowledge and academic expertise merge to produce evidence-based innovative professional approaches and services for enriching the lives of autistic people and those who support them throughout their lifespan.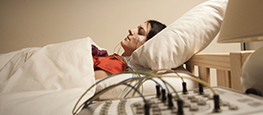 Lincoln Sleep Research Centre (LiSReC)
LiSReC aims to improve our understanding of all aspects of sleep, from basic sleep science through to frontline clinical applications. A collaborative venture between the University of Lincoln and Bishop Grosseteste University, our mission is improve the sleep of people everywhere through high quality research, education and engagement.