Dr Derek Foster - Programme Leader
Dr Derek Foster is an Associate Professor in the School of Computer Science and works researching and teaching the application of technologies across a range of societal contexts, particularly for sustainability purposes. His teaching encompasses the Cloud Computing and the Internet of things areas of computing.
Academic Staff List
Make an Enquiry
Welcome to MSc Cloud Computing
Our MSc Cloud Computing programme aims to provide students with an extensive learning experience that equips them with the cutting-edge skillsets required within the fast-growing cloud computing industry. Students will have the opportunity to gain in-demand skills for professional roles such as Cloud Developers, Solution Architects, DevOps, and Data specialists.
The programme provides a considered balance of computer science principles, along with a strong focus on the conceptual knowledge and industry practices for cloud computing. Students can gain a rigorous conceptual understanding of state-of-the art, scalable cloud systems across multiple cloud service providers.
A distinct feature of the programme is the integration of cloud vendor certification that is aligned with programme and module outcomes. This approach gives students the opportunity to demonstrate industry-transferable competencies in core areas whilst enhancing their employability attributes.

The School of Computer Science has also built a strong partnership with Microsoft through a student-focused Shared Goals Agreement that provides opportunities for students to develop digital skills for cloud computing and access to industry cloud certifications. These initiatives are designed to enhance the student learning experience, ensuring students are equipped with the skills required to launch and develop their cloud careers in a digital-first economy.
How You Study
Emphasis is placed on the broad concepts of cloud computing for understanding cloud-based compute, storage, and networking, whilst providing the opportunity to develop practical skills around cloud architecture design and deployment, as well as cloud development.
Cloud development is an important topic threaded throughout the programme and is delivered through topics such infrastructure-as-code and serverless computing. The programme modules assume a familiarity with programming concepts and supporting mathematical frameworks where appropriate.
Each module consists typically of 12 weeks of study, which includes a supporting lecture programme, a series of supported workshop sessions, and time for the completion of assignment exercises and/or examinations.
The final research project module is separate and carried out over the last three months of the programme.
Postgraduate level study involves a significant proportion of independent study, exploring the material covered in lectures and workshops. As a general guide, for every hour spent in class, students are expected to spend at least two to three hours in independent study.
Special Features
There is a range of equipment for loan, including Raspberry Pi devices, smartphones, robots, and virtual reality equipment such as HTC Vive and Oculus Quest.
Students on this course are taught by academics whose research has been internationally recognised. Researchers in the School include Marc Hanheide, Professor of Intelligent Robotics and Interactive Systems, and Nigel Allinson MBE, Distinguished Professor of Image Engineering, who has been supported with a multi-million pound grant from the UK's Engineering and Physical Sciences Research Council for advances in medical imaging.
The School is also a Microsoft Imagine Academy member, Cisco Academy member, and AWS academy which gives students on the MSc Cloud Computing programme the opportunity to gain industry recognised qualifications such as Microsoft cloud-focused fundamentals and associate level certifications.
Image: An Azure Kinect device. This new generation device is natively connected to the cloud for vision and speech analysis, with Industry 4.0 companies piloting it for use in manufacturing.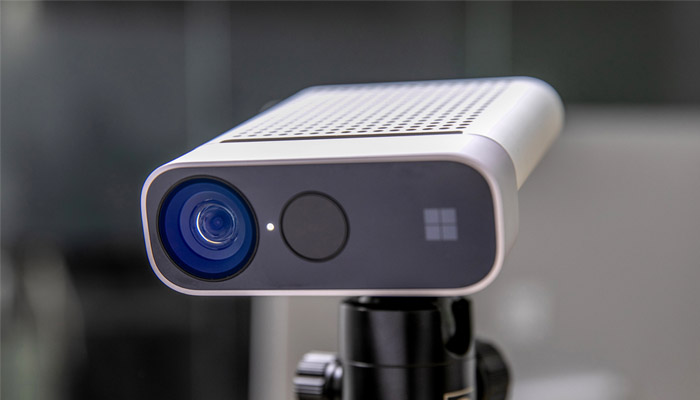 Industry Certification
Students on the MSc Cloud Computing have the opportunity to gain cutting-edge industry certification in areas such as cloud data and administration of cloud services. Examples of the digital certification badges you can achieve as part of the programme include Microsoft Azure Data Fundamentals and Microsoft Azure Administrator.
An Introduction to Your Modules
---
† Some courses may offer optional modules. The availability of optional modules may vary from year to year and will be subject to minimum student numbers being achieved. This means that the availability of specific optional modules cannot be guaranteed. Optional module selection may also be affected by staff availability.
CMP9134M
Level 7
2023-24
This module aims to provide students with an understanding of advanced concepts of software engineering principles and practices. Students can explore up-to-date methodologies and their application to real-world products and services will be covered. Indicative topics of study will include, but are not limited to: agile methods of software engineering; requirements engineering, design, software components, software reuse, verification and validation, maintenance and configuration management, software evolution; critical system development and the ethical implications of software engineering; and Fault Tree Analysis.
Core
CMP9790M
Level 7
2023-24
This module explores core cloud computing technologies and their application in a wide range of use cases. The virtualisation of compute, storage, and networking is discussed and how such resources when deployed on cloud platforms provide high-performance and global scalability. Students will have the opportunity to create, deploy, and monitor cloud resources and applications. Particular attention is given to understanding the differences between on-premise resources and cloud, the economic benefits, as well as data governance and service-level agreement implications.
Core
CMP9791M
Level 7
2023-24
Data storage is a fundamental component of IT systems, applications, and devices, with the volume of data generated increasing significantly every year. Cloud storage platforms provide a means to store and process vast volumes of structured and unstructured data that enable large scale analytics for insights. This module will explore and critique cloud-based relational and non-relational databases, and how data is managed and processed, such as transactional processing, batch, and streaming data processing. Students will have the opportunity to design and deploy a cloud data storage solution.
Core
CMP9785M
Level 7
2023-24
This module explores core cloud computing patterns, services, and models to support technical development using cloud technologies. Students will have the opportunity to learn how to develop, deploy, and secure cloud native applications following a cloud-first systems development lifecycle. In particular, cloud services for identity access management, caching, storage, RESTful APIs, messaging, containers, and serverless computing are of interest. Additionally, students will have the opportunity to learn best practices for deploying cloud applications using DevOps approaches such as Continuous Integration/Continuous Delivery (CI/CD) pipelines, with appropriate deployment and testing strategies.
Core
CMP9769M
Level 7
2023-24
The module provides an introduction to cutting-edge topics in computer science research topics, including both theory and practical applications. Students will further benefit from opportunities to discuss possible research topics with potential project supervisors and clients, and production of a research proposal, presentation and literature review leading into the Research Project.
Core
CMP9809M
Level 7
2023-24
This module provides insights into the management of company and personal data with an emphasis on security. Impact on organisations and individuals resulting from attacks is explored. The application of security elements including but not limited to, passwords, certificates, firewalls, intrusion detection systems are considered. The scope for security is explored, taking into account the implementation of theoretical models and considering identity access management.
Core
CMP9792M
Level 7
2023-24
This module is focused on networking in the cloud, specifically on how to design and deploy secure, software defined networks (SDNs) as part of a cloud application or infrastructure framework. Public and private IP addressing will be explored as well as the important role of firewall rules and routing. In addition to IP addressing, load balancing plays a critical role in cloud network systems and will be critiqued in the context of external and internal approaches, as well as geographical load-balancing. Cloud network security will be discussed throughout the module and how resources such as Virtual Private Networks (VPNs) connecting on-premise networks to cloud networks can further enhance network security.
Core
CMP9139M
Level 7
2023-24
This module is designed to cover the fundamental skills and background knowledge that students need to undertake research related to the title of the award being studied, including: surveying literature; selecting and justifying a research topic; planning of research; selection of appropriate research methods; evaluation of research; presentation and reporting of research; and legal, social, ethical and professional considerations.
Core
CMP9140M
Level 7
2023-24
This module gives students with the opportunity to carry out a significant project, focusing on an area of particular personal and professional interest, through the development of a dissertation and substantive software implementation. The research project is an individual piece of work, which gives students the chance to apply and integrate elements of study from a range of modules, centred on a specific research question. Students are expected to undertake work that is relevant to the ongoing research in one of the established research centres within the Lincoln School of Computer Science and will work closely under the supervision of a member of that research centre. Students are required to undertake the development of a software artefact that is non-trivial in scale and goals, and is supported by best-practice application of appropriate theoretical frameworks.
Core
How you are assessed
The programme is assessed through a variety of means, including in-class tests, coursework, presentations, posters, and examinations. The majority of assessments are coursework based, reflecting the practical and applied nature of computer science and cloud computing.
The final stage research project enables students to further specialise in cloud computing and complete a piece of work of significant complexity. Communication and presentation skills will be assessed by an informal oral presentation (viva voce) with poster presentations in various modules.
Fees and Funding
For eligible students, there are more ways than ever before to fund your postgraduate study, whether you want to do a taught or research course. For those wishing to undertake a Master's course, UK students can apply for a loan as a contribution towards the course and living costs. Loans are also available to those who wish to undertake doctoral study. The University offers a number of scholarships and funded studentships for those interested in postgraduate study. Learn how Master's and PhD loans, scholarships, and studentships can help you fund your studies on our Postgraduate Fees and Funding pages.
International Applications
Please note that this programme is now closed for international applications for September 2023 entry.
Entry Requirements 2023-24
Students should hold a first or second class honours degree in Computer Science or a related area such as Software Engineering, Computing, Games Computing, Artificial Intelligence, Data Science, or Distributed Systems and Networking. In addition to the degree requirements, students must be competent in programming as evidenced in their academic degree transcript through programming-based classes.
If you have studied outside of the UK, and are unsure whether your qualification meets the above requirements, please visit our country pages for information on equivalent qualifications.
https://www.lincoln.ac.uk/home/studywithus/internationalstudents/entryrequirementsandyourcountry/
Overseas students will be required to demonstrate English language proficiency equivalent to IELTS 6.0 overall, with a minimum of 5.5 in each element. For information regarding other English language qualifications we accept, please visit the English Requirements page.
https://www.lincoln.ac.uk/home/studywithus/internationalstudents/englishlanguagerequirementsandsupport/englishlanguagerequirements/
If you do not meet the above IELTS requirements, you may be able to take part in one of our Pre-session English and Academic Study Skills courses. These specialist courses are designed to help students meet the English language requirements for their intended programme of study.
https://www.lincoln.ac.uk/home/studywithus/internationalstudents/englishlanguagerequirementsandsupport/pre-sessionalenglishandacademicstudyskills/
Career Opportunities
There is a global skills shortage of graduates with Cloud Computing skillsets. Upon completion of the programme, graduates are well positioned to fill cloud-focused roles such as a Cloud Developer, Data Engineer, DevOps Engineer, and Cloud Consultant.
Postgraduate Events
Find out more about how postgraduate study can help further your career, develop your knowledge, or even prepare you to start your own business at one of our postgraduate events.
Find out More