Dr Samy Amer - Programme Leader
Dr Samy Amer is a Lecturer in Banking and Computational Finance at Lincoln International Business School. He is a Fellow of the UK Higher Education Academy and has more than 20 years' experience working in academia.
Academic Staff List
Make an Enquiry
Welcome to MSc Banking and Finance
The MSc Banking and Finance programme at Lincoln, while extending an existing knowledge and skills base, aims to stimulate students intellectually. It is an intensive course that combines advanced study and research, preparing students for a career in banking and finance. Not only is there an opportunity to acquire a deeper understanding of finance theory but also it places particular emphasis on banking structures and institutions.
The course aims to provide students with the opportunity to analyse the current dynamic environment within the context of appropriate contemporary theory and research. With appropriate levels of sophistication, they can develop the tools and frameworks to analyse issues. Through this process, students can acquire skills that will better enable them to explore and analyse new issues as they emerge.
Research and enquiry are supported through such facilities as the Bloomberg suite and practical use can be made through the possibility of participating in LIBS Student Managed Investment Fund.
How You Study
The MSc in Banking and Finance is a one-year master's course combining advanced study and research. There are two banking modules, three finance, and two econometrics modules. Each student will take eight modules and write a dissertation. The dissertation will give them the chance to work with one of the department's experienced lecturers on a selected topic and apply your knowledge to a specific problem.
Through these modules, students can develop skills and knowledge in areas such as bank performance analysis; managing sources of funds; hedging; economic value of the banking book; risk-adjusted performance measures; credit risk scoring models and credit ratings; valuation and pricing; financial distress and bankruptcy assessment; and raising capital, capital structure, and dividends.
The quantitative methods provided in the econometrics include instrumental variables and two stage least squares; simultaneous equations models; forecasting; and panel data modelling.
An Introduction to Your Modules
---
† Some courses may offer optional modules. The availability of optional modules may vary from year to year and will be subject to minimum student numbers being achieved. This means that the availability of specific optional modules cannot be guaranteed. Optional module selection may also be affected by staff availability.
ECO9207M
Level 7
2023-24
This applied course focuses on the up-to-date empirical evidence in the field of corporate finance. Students have the opportunity to develop knowledge about the empirical research process that helps them develop economic intuition about key corporate finance decisions in practice. Topics cover some of the most engaging ones in corporate finance, including valuation and pricing, governance and control, financial distress and bankruptcy, issues in raising capital, capital structure and dividends, and executive compensation and incentives.
Core
ECO9206M
Level 7
2023-24
This module aims to illustrate the further techniques of empirical investigation in economics by using real-world empirical applications in the fields related to economics and finance. The topics covered will reflect the development of contemporary applied econometrics. It can also advance students analytical skills of using econometrics software and packages that are essential for students who wish to pursue a professional career in economics, finance or related disciplines.
Core
FIN9020M
Level 7
2023-24
The module aims to focus on the role of financial managers managing a special type of business the commercial banks. The module is designed to give a brief introduction to the banking and financial services industry in an opened and globalized economy context, including the organisation and structure of banking and financial services industry.
Core
FIN9105M
Level 7
2023-24
The dissertation provides the opportunity to demonstrate the ability to reflect critically on the aspects relating to their Master's programme. The vehicle will be the researching and writing of a dissertation, based on the methods delivered in the pre-requisite QM modules. The dissertation is the capstone of the Master's learning process and allows the student to demonstrate mastery in scholarship of a programme related topic that they have selected in amalgamation with supervisory tutors.
Core
ECO9210M
Level 7
2023-24
This module builds upon the principles and methods of statistics and introduces classical econometric modelling by using cross-sectional and panel data. It also aims to equip students with analytical skills of using econometrics software and packages that are essential for students who wish to pursue a professional career in economics, finance or related disciplines. Real-world data will be used in this module to facilitate learning and to develop problem-solving skills.
Core
ECO9209M
Level 7
2023-24
This module aims to provide students with an understanding of the major areas of Financial Technology, the ability to understand blockchain technology, and why so many firms are implementing the technology, as well to reflect on the history, behaviour, and impact cryptocurrencies have had on the financial sector. Students will gain a broad appreciation of recent developments in FinTech, including money and payment, digital finance, alternative finance and, importantly, FinTech regulation.
Core
FIN9026M
Level 7
2023-24
This module equips students with an in-depth and applied-oriented understanding of theoretical and empirical problems addressed in the field known as International Finance (also known as International Macroeconomics / Open Macroeconomics) and to bring students up to the research frontier in International Finance. It draws heavily on financial modelling and financial econometrics.
Core
FIN9024M
Level 7
2023-24
This module provides the students with a technical and broad overview of risk management in banking. The module can benefit students by expanding their understanding of the strong ties between banking risks and financial markets. It can also enable the students to have a critical understanding of the regulatory framework.
Core
ECO9220M
Level 7
2023-24
This module presents important concepts and insights from Behavioural Economics. It considers applications from various areas, eg, Microeconomics, Macroeconomics, Experimental Economics, Economic Policy and Finance. The module will cover different ways to depart from the assumption of economic agents as homo oeconomicus, ie, agents with standard preferences, rational behaviour and rational expectations. These departures from homo oeconomicus include cognitive biases, simple rules and heuristics, and non-standard preferences. Next, the consequences of relaxing rationality assumptions are discussed on a wide range of applications. The module will also discuss empirical and experimental support for different behavioural models.
Optional
FIN9023M
Level 7
2023-24
The module focuses on the role of investment bankers who have to deal with typical transactions in the capital markets from debt and equity capital market products to mergers and acquisitions and more structured products such as leverage buyouts. The module also analyses typical products, the process of investment banking and how typical investment banking transactions are implemented.
Optional
ECO9221M
Level 7
2023-24
Machine learning has become more prominent recently due to the availability of vast amounts of data and more affordable computing power. Machine learning excels at handling large and complex volumes of data with more variables than observations, something the business, policy, economics and finance has in increasing quantities. Leading banks and financial services companies are deploying AI technology, including to streamline their processes, optimise portfolios, decrease risk and underwrite loans among other things. Having the skills to master sift through the plethora of data, to find useful patterns will be highly prized over the coming years.
Optional
ECO9222M
Level 7
2023-24
The module aims to develop understanding of why monetary policy matters, what central banks can do to improve the financial markets and economic performance through the use of conventional and unconventional monetary policy instruments and when monetary policy decisions may be impotent. It also aims to help students to gain skills of economic analysis to the conduct monetary policy under uncertainties considering recent the global financial crisis.
Optional
Fees and Funding
For eligible students, there are more ways than ever before to fund your postgraduate study, whether you want to do a taught or research course. For those wishing to undertake a Master's course, UK students can apply for a loan as a contribution towards the course and living costs. Loans are also available to those who wish to undertake doctoral study. The University offers a number of scholarships and funded studentships for those interested in postgraduate study. Learn how Master's and PhD loans, scholarships, and studentships can help you fund your studies on our Postgraduate Fees and Funding pages.
Entry Requirements 2023-24
This is a specialist MSc programme. Courses in this category attract entrants who have a background in the subject or a related subject area, acquired through previous study. A 2:2 honours degree or equivalent in banking or a related subject plus strong quantitative methods are required.
Candidates may be invited for interview to provide effective information and guidance or for non-standard entry.
Student Managed Investment Fund
Lincoln International Business School offers the Student Managed Investment Fund (LSMIF), which is an investment fund created, operated, and maintained by students within the school, with everything running within the real-world environment of finance.
Students will be managing real money with the objective of positive returns while managing risk. Industry veteran and long-time lecturer Hao Quach will help support the students throughout, with many years of experience in all aspects of investment banking and 20 years teaching in multiple countries, Hao will use his experience to ensure the stability of the fund and provide guidance. Read more about the Student Managed Investment Fund.
Bloomberg Terminal
Students can take advantage of the Bloomberg Terminal, which is designed to help industry professionals make better-informed investment decisions by offering the latest market news along with historical data and an international network for secure and and reliable communication.
Bloomberg Terminal offers a practical resource for students to reinforce the theories they learn in lectures, as well as enable them to become familiar with the tools being used by today's financial services professionals.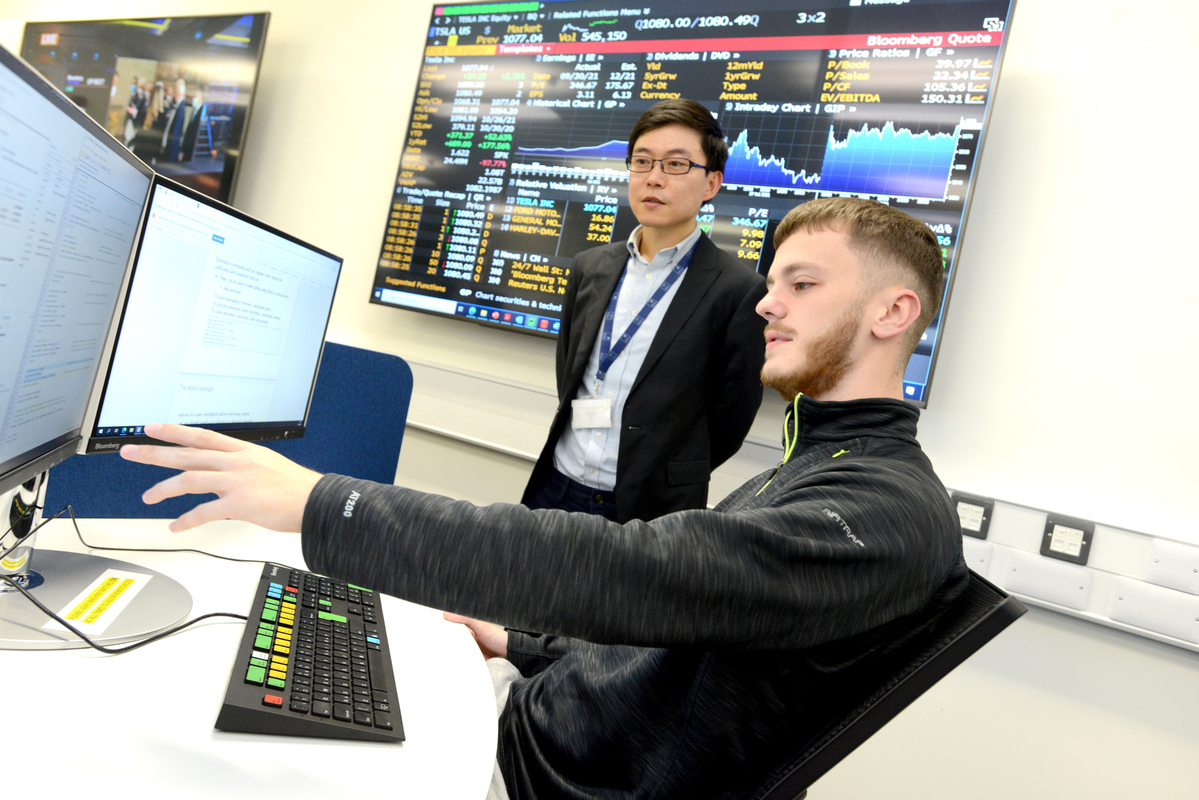 Career and Personal Development
This course is ideal for those wanting to work as a professional banker, or in a financial institution, business, commerce, international agency, and other similar organisations. It is also suitable for those wanting to journey to a PhD.
Broaden Your Horizons
Lincoln International Business School students can expand their horizons, visit our partner universities, and see international business in action by joining funded international trips to exciting overseas destinations. Places are awarded competitively to eligible students each academic year.
Find out more about our funded field trip places for students.
Working in Partnership
Lincoln International Business School works with students and organisations to enhance the contribution of business to society. For students, that means developing their business skills and knowledge to improve their career readiness.
The University of Lincoln is a member of AACSB, a global nonprofit association connecting educators, students, and businesses to achieve a common goal: to create the next generation of great leaders. Find out more.
Postgraduate Events
Find out more about how postgraduate study can help further your career, develop your knowledge, or even prepare you to start your own business at one of our postgraduate events.
Find out More