Welcome to MArch Master of Architecture
The Lincoln School of Architecture and the Built Environment's Master of Architecture (MArch) provides you with the opportunity to consolidate your formative education and experiences in practice, challenging you to question your preconception of the discipline, and encouraging you to engage not just with the contemporary challenges facing the practice of architecture, but to engage speculatively and critically with the future of discipline.
The aim of this two-year Master's programme is to create a collaborative environment where students can access and can draw from multiple perspectives and architectural agendas, in order to synthesize their own approach and philosophy, allowing them to speculate meaningfully on future architectures and practices, through the delivery of practice design rich, practice-based experimentation and enquiry.
The course carries validation from the Royal Institute of British Architects (RIBA) and the curriculum is prescribed by the Architects Registration Board (ARB) as satisfying the Part 2 Criteria.
Peter Baldwin - Programme Leader
Peter Baldwin is a Registered and Chartered Architect. He is a Senior Lecturer and Programme Leader in the Lincoln School of Architecture and the Built Environment. Peter's practice and research focus on the role of Narrative in the experience, perception, and shaping of space. This research permeates his teaching practice and is frequently the generator for the theme and interpretation of briefs within the design studio.
Academic Staff List
Make an Enquiry
Accreditations and Memberships
This Master's of Architecture meets all the criteria for validation held in common by the Royal Institute of British Architects (RIBA) for validation and the Architects Registration Board (ARB) for the prescription at Part 2. It meets all points of the European Union Directive (EC2005/36) and is accredited by the Commonwealth Association of Architects.
"The University of Lincoln gave me the opportunity to engage in advanced study in architectural design and research. This helped me to develop competence to become inter-culturally and internationally proficient. Most of my research and projects were on how to develop and improve communities. I am now happily putting them into practice."
Ahmad Buba
Architecture Exhibition
Visit our virtual RIBA validation exhibition from 2022.
Workshops and Demonstrations
There are extensive model-making workshops throughout the course, offering students the opportunity of making both full-size and scale developmental and presentational models using traditional workshop techniques, as well as digital fabrication facilities. This is complemented by a wide range of computer programmes and access to video and photography facilities for exploring spatial qualities and advancing technical competence.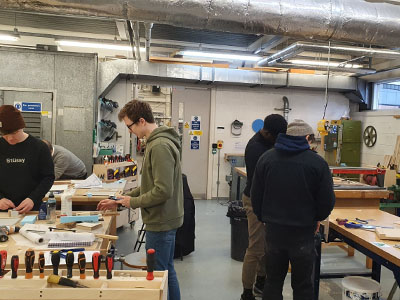 Study Visits
Study visits are organised by the studios and may include project site visits, excursions to exhibitions, lectures, debates, cultural events, or meetings with professionals. At least one visit is organised each year within the School which is open to all courses and stages.
In recent years, groups have travelled around the UK, to Cambridge and Edinburgh, to European destinations including Brussels, Venice, Barcelona, and Paris, as well as further afield to India and Sri Lanka. In one study trip, students spent a week in Poland studying urban housing problems alongside a group from the Wroclaw University of Technology.
Please see the Fees tab for more information on the potential additional costs associated which these trips.
Career Opportunities
After successful completion of the programme, students may choose to progress to the Postgraduate Diploma in Professional Practice and Management in Architecture (ARB/RIBA Part 3) to pursue becoming a registered architect.
How You Study
Postgraduate-level study involves a significant proportion of independent study, exploring the material covered in studio sessions, lectures, and seminars. As a general guide, for every hour spent in class, students are expected to spend at least three hours in independent study.
Full-time students are expected to dedicate 40 hours per week to the course. Part-time commitments will vary depending on the number of credits taken. For more detailed information, please contact the Programme Leader.
An Introduction to Your Modules
---
† Some courses may offer optional modules. The availability of optional modules may vary from year to year and will be subject to minimum student numbers being achieved. This means that the availability of specific optional modules cannot be guaranteed. Optional module selection may also be affected by staff availability.
ARC9007M
Level 7
2023-24
This module is designed to address issues raised during Design Project A and develops them at building scale. Typically, this results in a complex proposal for a single or series of buildings drawing upon the systemic and conceptual work undertaken at larger scale during Design Project A.
Core
ARC9101M
Level 7
2023-24
In this module, students are required to think large scale and holistically, to demonstrate the capacity to have a systemic understanding of their project parameters, scale and the intention of their urban investigations. Within these project parameters students are expected to set out and explore a technological and environmental position including techniques and materials which impacts upon and form part of their of their design project. Projects developed within studio groups typically identify boundary conditions of an architectural project, addressing urban / regional, national and global issues through design. This includes issues of sustainability (cultural and physical), historic and social, as well as physical cause and effect relationships shaping the world, and dynamic properties of societies shaping cities and landscape. Individual or groups of students are required to explore these issues through design, resulting in a strategy for intervention which informs a physical and conceptual master plan and generic design brief. This may form the basis for development at building scale during Project B.
Core
ARC9013M
Level 7
2023-24
This module aims to establish the theoretical and physical context for the final thesis design, the cultural, social and economic boundary conditions and analyses design parameters. This is designed to enable students to develop a detailed design brief of adequate complexity and ambition for the Comprehensive Design Project.
Core
ARC9014M
Level 7
2023-24
This module constitutes the concept stage of the final thesis design project and aims to develop a design concept for Comprehensive Design Project, through experimentation and explorative design enquiry. In parallel with its related technology module Technical Awareness, it seeks to establish the ambition, frame of reference and theoretical area of investigation for the final thesis design. Students have the opportunity to experiment with methodologies and formulate a personal agenda and strategy for a year-long project. Material aspects of design and construction are addressed on a conceptual and experimental level and placed in an individual philosophical context, with emphasis on exploitation of synergies within the group through the exchange of ideas and design skills.
Core
ARC9011M
Level 7
2023-24
This module aims to build upon site and concept investigations performed during design modules Comprehensive Design: Brief and Context and Comprehensive Design: Concept. It looks to address technological issues as identified in Technical Awareness, and forms the basis for Technical Appraisal. In combination, these modules form a year-long final thesis project, which forms the culmination of design teaching.
Core
ARC9008M
Level 7
2023-24
This module gives students the opportunity to investigate the social and cultural context of architecture, view their own design and design-related research in a theoretical context, and explore and question the relationship between social and cultural theories and architectural projects and architects research. A series of lectures and seminars explore the function and use of theory in architectural and design investigations. Through selected readings, lectures and seminar discussions, a variety of social and cultural perspectives will be considered. Students are expected to evaluate the strengths and weaknesses of competing theories, their potential for their own work performed in design and research studios, and their application through the work of others.
Core
ARC9100M
Level 7
2023-24
This module aims to introduce students to postgraduate level study and its intellectual and creative requirements, looks to re-familiarises them with project-based learning in a studio context, and challenges their perceptions of design theory and practice. Creative exploration of ideas, formulation of individual philosophical and cultural points of reference, and a willingness to critically appraise their own and their peers work and working methods encountered during previous study and time spent in practice, are core requirements for successful negotiation of the course. Experimentation, by means of an iterative and integrated design process, can enable students to make, and communicate visually, connections between design and a philosophical and theoretical framework, and focus general interest towards clear study goals and objectives.
Core
ARC9125M
Level 7
2023-24
This module consists of two elements: Professional Practice (Written Examination and Written Assignment) and Personal Development Plan. The principal aims of the Professional Practice elements are that students will have the opportunity to: - Develop a critical understanding of the standards and expectation of professional practice - Appreciate the complexities of operating a practice - Be able to evaluate alternative procedures and practices involved in running a project - Be able to satisfy client demands through effective communication at all stages The Personal Development Plan is fundamental in providing coherence and rationale to students' programme of study. The emphasis is on the personal monitoring of development through being critically aware of past achievements and future aims. Students have the chance to organise their own programme of study based on their own appraisal of personal and academic objectives and personal strengths.
Core
ARC9009M
Level 7
2023-24
This module constitutes the main research component of the programme and is taught in the context of parallel research studio groups, along within defined fields of research and following group and project specific research methodologies. The module incorporates two distinct parts: - Research Methods, which aims to introduce the strands of research on offer by the research studios, outlines appropriate methodologies for the chosen subjects of study and their theoretical basis, and guides students towards informed choices between research studio groups. - Research Project, during which a research studio tutor directs the group towards establishing the area of group enquiry and points it at related research. They advise students on extending their reading in a chosen direction, and guide students through a research process towards, initially, formulation of a structured research proposal and programme informed by individual research interest. Subsequently substantial individual research should be evidenced through written and verbal presentation.
Core
ARC9127M
Level 7
2023-24
This module constitutes the technology component of the Comprehensive Design Project. It is designed to enable students to identify the technical requirements of their building projects, critically analyse and choose from a range of technologies, and develop an integrated technical resolution of their projects. Expanding upon Technical Awareness, the module re-visits ambitions and pre-design research and evaluates their suitability for their building design.
Core
ARC9222M
Level 7
2023-24
Core
How you are assessed
Formative assessment occurs constantly throughout the programme by means of studio discussion, draft written assignments, and reviews.
Summative assessment is via final presentation project supported by written project documentation (the type of presentation and nature of the written documentation varies via module).
Assessment Feedback
The University of Lincoln's policy on assessment feedback aims to ensure that academics will return in-course assessments to students promptly usually within 15 working days of the submission date.
Entry Requirements 2023-24
Applicants are expected to have attained a minimum of an upper second class honours degree (2:1) in Architecture (or equivalent subject) from a RIBA/ARB approved programme.
You should have RIBA Part 1, or have completed a Recognised Programme*. Students who do not hold a Part 1 are responsible for gaining this qualification (Part 1) prior to applying to the MArch programme.
*If you are unsure if your undergraduate degree is recognised please consult the RIBA International Validated Schools list; https://www.architecture.com/education-cpd-and-careers/riba-validation/international-validated-schools
Applicants will usually have one year's (post-degree) professional experience, evidenced as part of their application.
If you have studied outside of the UK, and are unsure whether your qualification meets the above requirements, please visit our country pages https://www.lincoln.ac.uk/home/studywithus/internationalstudents/entryrequirementsandyourcountry/ for information on equivalent qualifications.
Overseas students will be required to demonstrate English language proficiency equivalent to IELTS 6.5 overall, with a minimum of 6.0 in each element. For information regarding other English language qualifications we accept, please visit the English Requirements page https://www.lincoln.ac.uk/home/studywithus/internationalstudents/englishlanguagerequirementsandsupport/englishlanguagerequirements/.
If you do not meet the above IELTS requirements, you may be able to take part in one of our Pre-session English and Academic Study Skills courses. https://www.lincoln.ac.uk/home/studywithus/internationalstudents/englishlanguagerequirementsandsupport/pre-sessionalenglishandacademicstudyskills/ . These specialist courses are designed to help students meet the English language requirements for their intended programme of study.
How to Apply
All students (regardless of grades) will need to submit a portfolio for review (PDF or online) and/or attend an interview.
Portfolios should demonstrate a range of practical skills, such as pencil drawing techniques, computer-aided design drawing, photography, model making, perspective drawing or technical drawing.
The portfolio should include final-level degree work showing the full development of projects, including the brief, site analysis, research or precedent studies, conceptual development, design and technical resolution, plans, elevations, and sections.
We are always keen to see your professional experience, if you are including work from practice, please indicate your contribution to each scheme.
Please contact us for further information.
Fees and Funding
For eligible students, there are more ways than ever before to fund your postgraduate study, whether you want to do a taught or research course. For those wishing to undertake a Master's course, UK students can apply for a loan as a contribution towards the course and living costs. Loans are also available to those who wish to undertake doctoral study. The University offers a number of scholarships and funded studentships for those interested in postgraduate study. Learn how Master's and PhD loans, scholarships, and studentships can help you fund your studies on our Postgraduate Fees and Funding pages.
Programme-Specific Additional Costs
For each course you may find that there are additional costs. These may be specific clothing, materials, or equipment required.
Textbooks
The University provides students who enrol with a comprehensive reading list and you will find that our extensive library holds either material or virtual versions of the core texts that you are required to read. If you prefer to purchase some of these for yourself, you will be responsible for this cost.
IT Equipment
You may want to have your own laptop, and we recommend either a MAC or PC that is able to run CAD/Photoshop software.
Many students prefer to work using analogue processes and through physical model making. Students may also wish to print final drawings for exhibition purposes. We suggest that students budget approximately £300 per year in order to cover printing, paper, and model making materials.
There may be opportunities for gallery and site visits. Students should budget approximately £40 per academic year, for trips of this nature.
International field trips may also be available. It is suggested that students budget an additional cost of £400 per field trip.
Field trips and visits are not mandatory, if you choose to not participate in them it will not affect your grades or the final outcome of your degree classification.
Postgraduate Events
Find out more about how postgraduate study can help further your career, develop your knowledge, or even prepare you to start your own business at one of our postgraduate events.
Find out More
Prioritising Face-to-Face Teaching
At the University of Lincoln, we strive to ensure our students' experience is engaging, supportive, and academically challenging. Throughout the Coronavirus pandemic, we have adapted to Government guidance to keep our students, staff, and community safe. All remaining Covid-19 legal restrictions in England were lifted in February 2022 under the Government's Plan for Living with Covid-19, and we have embraced a safe return to in-person teaching on campus. Where appropriate, face-to-face teaching is enhanced by the use of digital tools and technology and may be complemented by online opportunities where these support learning outcomes.
We are fully prepared to adapt our plans if changes in Government guidance make this necessary, and we will endeavour to keep current and prospective students informed. For more information about how we are working to keep our community safe, please visit our coronavirus web pages.