Releasing the Potential of Your Rural Economy
The University of Lincoln Schools of Geography and Business have teamed up with Roger Turner of Rural Enterprise UK (Newcastle University) to launch a guide for economic policy-makers to ensure that rural areas are properly recognised within new Local Industrial Strategies.
For further information contact Gary Bosworth or Liz Price.
Download a Copy of the Guide
Connecting Remote Areas with Digital Infrastructure and Services (CORA)
To address a growing 'Digital Divide' across rural Europe, CORA seeks to stimulate digital infrastructure development through a collaboration of partners around the North Sea region of Europe trialling new innovations and working with policy-makers to evaluate innovative solutions.
For further information, contact Fiona Ashmore or Liz Price.
Find Out More
Saline Farming (SalFar)
SalFar is addressing threats to conventional agriculture deriving from increases in soil salinity. Increased coastal flooding and summer droughts are just two features of climate change that are impacting soil salinity. SalFar will carry our crop trials in a number of EU countries, including here in Lincolnshire, as part of a project assessing the wider market potential for salt-tolerant varieties and innovative halophytic crops.
Staff involved: Gary Bosworth, Iain Gould, Mark Macklin, Simon Pearson, Marian Rizov, Eric Ruto, Domna Tzemi, Isobel Wright.
Find Out More
Lincolnshire Beekeeping Survey
The importance of bees for the nation's food security is well known. The importance of beekeepers, however, receives less attention. This survey seeks to understand more about the people who keep bees and their motivations – are they just hobbyists, are they environmentalists or are they business people? With this knowledge, policy designed to support bee populations can more effectively engage beekeepers leading to better implementation.
For further information contact Gary Bosworth or Will Hamilton.
Health and Wellbeing Among UK Farmers
Members of Rural Visions have recently carried out a study highlighting some of the challenges faced by farmers and other agricultural workers. Their findings indicate that increased stress and poor health can arise from combinations of farm-level and community factors interacting with economic and technological changes.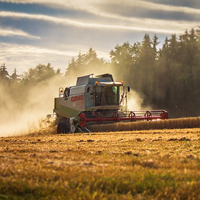 Events, Research and People
Rural Visions and our Civic Mission
With the official launch of the Rural Visions research group, we begin with a discussion about the group's role in contributing to Lincoln's mission to be a New Civic University.
Contact Us
School of Geography, College of Health and Science
University of Lincoln, Think Tank, Ruston Way, Lincoln, LN6 7DW
Tel: +44 (0)1522 835576