Dr Geeta Lakshmi - Programme Leader
Geeta joined the University of Lincoln in 2004 and has supervised and examined PhD students. She is a passionate teacher, researcher and practitioner and firmly believes that the three roles enhance and enrich each other. Geeta leads her programme and admin roles in a collaborative style. She has been mentoring and guiding junior and new colleagues with her international experience in the industry for over 30 years.
Academic Staff List
Make an Enquiry
Welcome to MSc Finance
Deregulation, globalisation, and the effect of the worldwide economic crisis across international stock markets have led to a growing interest in the subject of finance. Professionals in today's market need to be adept at managing investments of both a financial and economic nature, and use sound and informed judgement in order to make crucial decisions.
Lincoln's MSc Finance degree is designed to provide a framework for consolidating and enhancing students' finance and economics skills. It offers students the ability to explore practice in the context of relevant contemporary theory and research. Students can go beyond the fundamental theories to study advanced techniques, with a focus on quantitative methods and developing critical-thinking skills. The programme is both quantitative and research-orientated in nature and makes use of industry-level databases such as Bloomberg. The degree is open to students who have not studied finance before but who have a background in quantitative methods.
How You Study
The taught element of the programme consists of eight compulsory modules, split over two terms:
- Financial Reporting
- Corporate Finance 1
- Portfolio Analysis
- Quantitative Methods for Economics and Finance 1
- Bond Markets and Investment Analysis
- Corporate Finance 2
- International Macroeconomics and Finance
- Quantitative Methods for Economics and Finance 2
Following the taught element, students are expected to complete the final master's stage of the programme through a dissertation supported by a research methods module.
Learning and teaching methods can include lectures, seminars, computer-based lab-classes, experiment, and independent study. These will vary according to the subject matter and module.
Part-time students will complete the programme within two years. The programme structure for part-time study will be at the discretion of the programme leader.
Contact hours
Each module typically consists of three weekly teaching hours over a teaching term of 12 weeks, plus assessment.
Part-time students will generally study two modules per term, equating to six hours of contact time per week. Hours of study may vary from term to term for both full and part-time students and can be spread throughout the week.
Postgraduate level study involves a significant proportion of independent study, exploring the material covered in lectures and seminars. As a general guide, for every hour spent in class, students are expected to spend four to five hours in independent study. For more detailed information please contact the Programme Leader.
An Introduction to Your Modules
---
† Some courses may offer optional modules. The availability of optional modules may vary from year to year and will be subject to minimum student numbers being achieved. This means that the availability of specific optional modules cannot be guaranteed. Optional module selection may also be affected by staff availability.
FIN9097M
Level 7
2023-24
This module provides students with a chance to develop an understanding of the concepts and theory of portfolio analysis with a focus on straight bonds. It explores the analytical framework of bond management techniques and also seeks to introduce and evaluate the measures of investment funds performance. The module is designed to complement the Portfolio Analysis module by providing opportunities to explore how bond pricing works in conjunction with the term structure and credit risk. The module unit is also designed to enable students to develop a conceptual understanding of how investment funds performance can be evaluated.
Core
FIN9006M
Level 7
2023-24
Corporate Finance introduces the constructs of financial management decision making in modern firms and focuses on investment appraisal and the financing of the firm, dividend policy, capital structure and risk. It will familiarise students with the major theoretical developments and practices in the areas of corporate finance, and aims to encourage students to develop critical thinking about the advantages and disadvantages of diverse practices in areas of capital budgeting, dividend policy, capital structure and risk analysis. Throughout the module students will be expected to draw upon their own experiences and relate these to the theories, concepts and methods being presented.
Core
FIN9007M
Level 7
2023-24
Following from Corporate Finance 1, this module looks further into the topic of Corporate Finance and advances the perspective that modern organisations can use the ideas of Modern Financial Theory (MFT) to enhance shareholder wealth through the use of derivatives, for example, to manage cash flow volatility. The module then moves to present a detailed analysis of the assumptions of the classical approach to Corporate Finance, by analysing the standard assumptions and presenting other approaches to the understanding of MFT. These are mainly the implications of alternative modus operandi of financial logic, mainly from the perspective of behavioural finance.
Core
FIN9105M
Level 7
2023-24
The dissertation provides the opportunity to demonstrate the ability to reflect critically on the aspects relating to their Master's programme. The vehicle will be the researching and writing of a dissertation, based on the methods delivered in the pre-requisite QM modules. The dissertation is the capstone of the Master's learning process and allows the student to demonstrate mastery in scholarship of a programme related topic that they have selected in amalgamation with supervisory tutors.
Core
FIN9066
Level 7
2023-24
Concerned with the preparation and analysis of published financial statements, this module looks at the framework within which accounts are created and considers the role of those statements. There will be the opportunity to explore relevant professional practice, theory and research in respect of the accounting framework and how these relate to finance in contemporary organisations, as well as the development of a critical perspective in respect of the information contained in, and omitted from, published financial statements.
Core
FIN9026M
Level 7
2023-24
This module equips students with an in-depth and applied-oriented understanding of theoretical and empirical problems addressed in the field known as International Finance (also known as International Macroeconomics / Open Macroeconomics) and to bring students up to the research frontier in International Finance. It draws heavily on financial modelling and financial econometrics.
Core
FIN9010M
Level 7
2023-24
This module aims to provide concepts and theory of portfolio analysis with a focus on equities. It explores the analytical framework of asset pricing models and introduces the concepts associated with efficient market hypothesis. The module makes use of data driven information platforms and integrated analytics software, e.g. Bloomberg, which draws upon statistical concepts of mean, variance, covariance and correlation and uses basic rules pertaining to these.
Core
FIN9027M
Level 7
2023-24
This module provides students with an opportunity to develop their understanding relating to the background of statistical methods for primary research. Students will engage with statistical software, such as Eviews, to apply quantitative analytical techniques to sets of data.
Core
FIN9028M
Level 7
2023-24
The aim of this module is to build on the work in Quantitative Methods for Economics and Finance I while focusing on specific quantitative analytical techniques. The models examined are: Dynamic, ARIMA, GARCH, VAR and ECM, among others. The EViews statistical software and the BLOOMBERG data provider are essential to the learning objectives and assessment of the module.
Core
FIN9106M
Level 7
2023-24
Initiated from 2015 and officially founded in 2018, the LSMIF is set up with a structure similar to any other professionally run fund management company with students running every aspect of the fund, from CEO to analyst. It is one of only few of this kind in the United Kingdom. The fund uses money raised from donors to invest in shares of companies listed on London Stock Exchange. It is organized, run and managed the same way as an investment company in the real world. The fund has got sponsorship and advisory support from UK leading wealth management companies such as Brewin Dolphin and Mattioli Woods with senior officers from them joining the Board of Advisors. This fund gives students the opportunity to work as analysts, investment managers, CFO, CIO, CEO etc. Students also have the chances to meet, discuss and learn from experts in the field in Quarterly Investment Committee Meetings series. Students are given additional training relating to their works.
Optional
How you are assessed
Assessment methods reflect the differing theoretical and practical approaches and learning outcomes of each individual module. They include unseen written examinations and individual coursework.
Formative assessments, such as problem-solving in seminars or class tests, are integrated into the programme. Whether assessment is formative or summative, students will be offered feedback with the aim of ensuring that it contributes to the learning process. Some coursework and module projects will be marked and returned during the teaching period, providing written feedback and allowing students to make any necessary improvements before the final assessment.
The University of Lincoln's policy on assessment feedback aims to ensure that academics will return in-course assessments to students promptly - usually within 15 working days of the submission date.
Fees and Funding
For eligible students, there are more ways than ever before to fund your postgraduate study, whether you want to do a taught or research course. For those wishing to undertake a Master's course, UK students can apply for a loan as a contribution towards the course and living costs. Loans are also available to those who wish to undertake doctoral study. The University offers a number of scholarships and funded studentships for those interested in postgraduate study. Learn how Master's and PhD loans, scholarships, and studentships can help you fund your studies on our Postgraduate Fees and Funding pages.
Programme-Specific Additional Costs
For each course you may find that there are additional costs. With regards to text books, the University provides students who enrol with a comprehensive reading list and you will find that our extensive library holds either material or virtual versions of the core texts that you are required to read. However, you may prefer to purchase some of these for yourself and you will be responsible for this cost.
Entry Requirements 2023-24
First or second class honours degree and grade B in GCSE Mathematics and evidence of quantitative methods or mathematics during an undergraduate degree (or A Level grade C or above in Mathematics).
Students from quantitative social sciences, engineering and IT backgrounds are encouraged to apply. Students are expected to demonstrate a sound working knowledge of mathematics and statistics.
Alternatively, prior work experience in a related field will be considered in place of a degree at the discretion of the teaching team.
If you have studied outside of the UK, and are unsure whether your qualification meets the above requirements, please visit our country pages https://www.lincoln.ac.uk/home/studywithus/internationalstudents/entryrequirementsandyourcountry/ for information on equivalent qualifications.
Overseas students will be required to demonstrate English language proficiency equivalent to IELTS 6.0 overall, with a minimum of 5.5 in each element. For information regarding other English language qualifications we accept, please visit the English Requirements page https://www.lincoln.ac.uk/home/studywithus/internationalstudents/englishlanguagerequirementsandsupport/englishlanguagerequirements/.
If you do not meet the above IELTS requirements, you may be able to take part in one of our Pre-session English and Academic Study Skills courses. https://www.lincoln.ac.uk/home/studywithus/internationalstudents/englishlanguagerequirementsandsupport/pre-sessionalenglishandacademicstudyskills/ . These specialist courses are designed to help students meet the English language requirements for their intended programme of study.
Research at Lincoln International Business School
Academics on the MSc Finance are involved in the Lincoln Economics and Finance Research Group (LEAF). LEAF brings together economics and finance academics from University of Lincoln's International Business School and School of Social and Political Sciences, graduate students, and a diverse network of collaborators, with the aim of facilitating the creation and diffusion of rigorous and policy relevant research as well as research skills within the University, the local community, and society at large.
Their research is based on microeconomic models encompassing heterogeneous individual and firm behaviours and extends to the functioning of particular industries. Furthermore, the macroeconomic perspective that brings in the picture the interplay of institutions, markets, and policies in the diverse contexts of developing, emerging, and developed economies is also explored.
For more information, please visit the LEAF research pages.
Industry Expertise
Students on this programme can benefit from working alongside an experienced team of staff consisting of academically and professionally qualified lecturers with relevant industrial experience and wide-ranging research interests. They can engage with Datastream, a global financial and macroeconomic data platform, and have the opportunity to apply for exemptions from elements of examination for a number of professional bodies, including the Association of Chartered Certified Accountants, Chartered Institute of Management Accountants, and Association of International Accountants.
The School hosts a series of visiting speakers each year, enabling students to hear and learn from industry experts. Previous speakers have included representatives from organisations such as Deloitte, Santander, HSBC, Innocent, The Institute of Internal Auditors, and Sir David Tweedie (ex-Chairman of the IASB).
Student Managed Investment Fund
Lincoln International Business School offers the Student Managed Investment Fund (LSMIF), which is an investment fund created, operated, and maintained by students within the school, with everything running within the real-world environment of finance.
Students will be managing real money with the with objective of positive returns whilst managing risk. Industry veteran and long-time lecturer Hao Quach will help support the students throughout, with many years of experience in all aspects of investment banking and 20 years teaching in multiple countries, Hao will use his experience to ensure the stability of the fund and provide guidance. Read more about the Student Managed Investment Fund.
Bloomberg Terminal
Students can take advantage of the Bloomberg Terminal, which is designed to help industry professionals make better-informed investment decisions by offering the latest market news along with historical data and an international network for secure and and reliable communication.
Bloomberg Terminal offers a practical resource for students to reinforce the theories they learn in lectures, as well as enable them to become familiar with the tools being used by today's financial services professionals.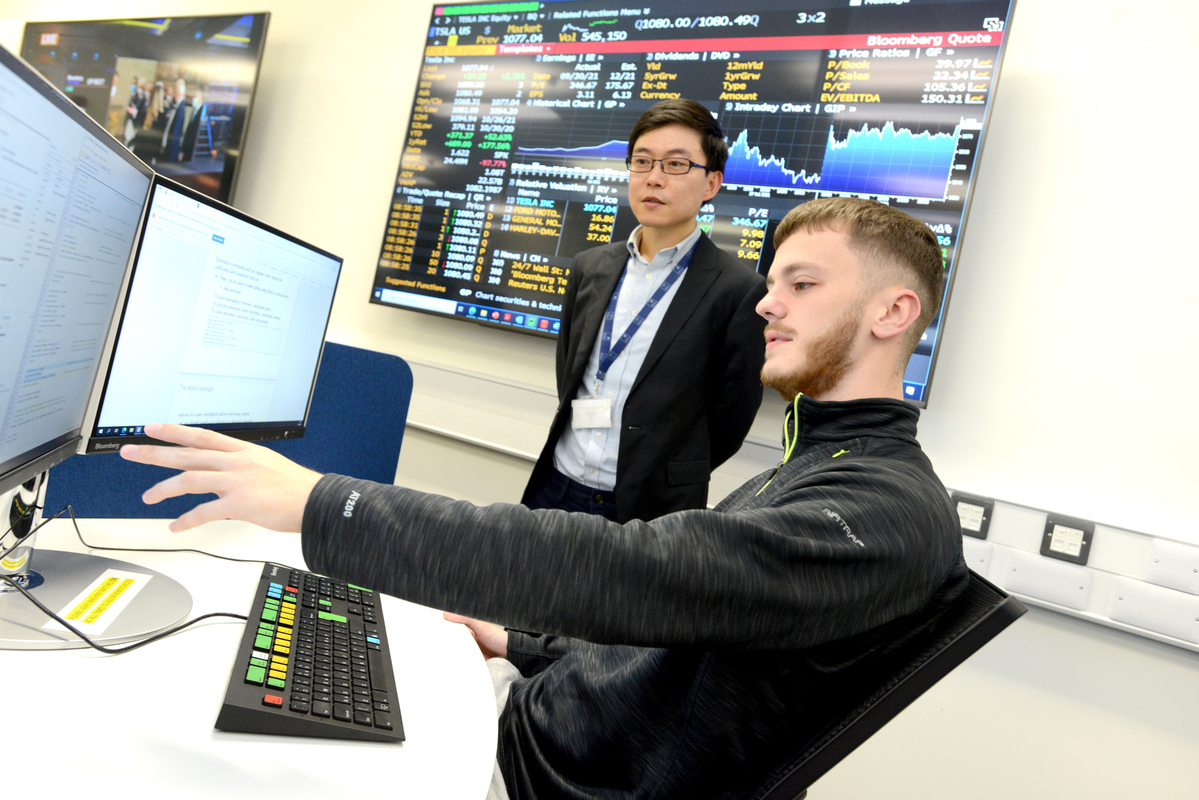 "Studying MSc Finance at Lincoln has been among the most wonderful experiences for me, on a professional and personal level. It not only equipped me with a technical skill set but also offered guest lectures and practitioner talks which helped me to crystallise my career goals and get a deeper insight into financial sectors."
Thi T L Nguyen, MSc Finance graduate
Career and Personal Development
MSc Finance graduates may find opportunities across the financial sector in areas including banking, foreign exchange, sales, and financial risk assessment and management, while some students go on to pursue careers in research or academia.
Graduates from the Department of Accountancy, Finance, and Economics have gone on to secure the following roles: Finance Officer at The Woodland Trust; Graduate Career at Hang Seng Bank (a subsidiary of HSBC group), Hong Kong; Operations Analyst at Cantab Capital Partners LLP; Evaluation Analyst at Humankind Charity; Trainee Accountant at Dexter and Sharpe; Accountant at Central Bank of Oman; PhD student (awarded scholarship).
100 Funded Field Trip Places
Lincoln International Business School students can expand their horizons and see international business in action by joining funded international trips to exciting overseas destinations.
LIBS 100 gives students the opportunity to enhance their global mindset, connect with our global community and partners, and learn from international experts through 100 funded field trip places each academic year.
Places are open to all students enrolled on a programme within Lincoln International Business School.
Find out more about our 100 funded field trip places for students.
Working in Partnership
Lincoln International Business School works with students and organisations to enhance the contribution of business to society. For students, that means developing their business skills and knowledge to improve their career readiness.
The University of Lincoln is a member of AACSB, a global nonprofit association connecting educators, students, and businesses to achieve a common goal: to create the next generation of great leaders. Find out more.
Postgraduate Events
Find out more about how postgraduate study can help further your career, develop your knowledge, or even prepare you to start your own business at one of our postgraduate events.
Find out More