Facilities
The University of Lincoln has a comprehensive range of facilities designed to provide a supportive environment for creative practitioners. Students have regular access to workshops, labs, studios and industry-standard equipment, as well as highly knowledgeable technicians. This environment can help students to develop their knowledge and skills, and complements our purpose-built design studios.
Detailed below is an introduction to some of the facilities available to design students across the College of Arts:
Adobe Creative Cloud Suite Software
Design students can access Adobe Creative Cloud suite software, which is available in all iMac computer suites across the University.
Art Shop
The University of Lincoln's Art Shop stocks a wide range of art and design materials from specialist suppliers. Items such as sketchbooks, specialist papers, foam boards and tools are all available to purchase at reduced prices.
Audio Recording and Editing
The College of Arts' audio recording studios and audio editing suites are located in the Alfred Tennyson Building. There are four professional-level studios with full noise attenuation and multi-track recording capabilities, as well as three edit suites running various specialist audio software such as ProTools, Ableton Live Suite and Adobe Audition.
High-end mobile kit is available for location sound and field recording.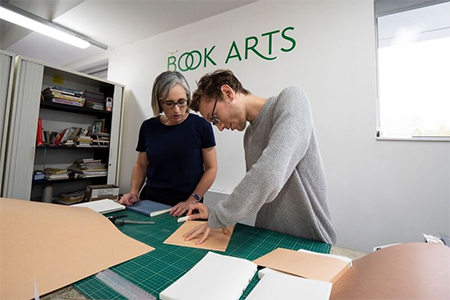 Book Arts Space
The Book Arts space offers students the opportunity to create publications with a variety of bindings from pamphlet stitching, to concertina books, lay flat bindings, Japanese stab binding, fan-binding and section sewn books.
Students can work with workshop and technical staff to push the boundaries of materials and function to produce innovative and beautiful works, from unique copies to multiple editions.
Computer Aided Design and Manufacturing (CAD/CAM)
The University has a number of computer studios equipped with software to design three dimensionally.
We use a variety of industry-standard CAD and 3D-modelling software including AutoCAD, Rhino 3D, SketchUp and other packages suitable for the manipulation of 3D scan data, mesh constructed models and photorealistic rendering (Maya and 'sculpting' tools such as Z brush, as well as industry rendering packages such as Keyshot).
Students also have access to virtual reality, animation tools and building information modelling (BIM) expertise.
Fashion Workshops
Our fashion workshops are equipped for a mixture of fabric sewing and pattern-cutting processes. Facilities include a variety of industrial sewing machines; overlockers; and domestic sewing, embroidery and knitting machines. A digital fabric printing machine is available to print full colour, high-quality, wide-format digital images onto a range of fabrics including silk, canvas, satin, organza and cotton. Specialist facilities also include millinery equipment.
These workshops are predominantly used by our Fashion students, but are open to other design students. Dedicated fashion workshop technicians can support and supervise students as they work.
Media Loans and Editing Suites
The College of Arts media loans store is located in the Alfred Tennyson Building. It provides a broad range of equipment such as industry-standard digital cameras, lighting and sound recording equipment available for students to book out. Academics and technicians can support students in using these resources and studio spaces.
Media loans runs an online booking system for equipment and facilities which means that students are able to make bookings 24 hours a day, seven days a week.
LinkedIn Learning
Students' self-directed learning will involve using online learning tools and applying the skills they develop to their design studio work.
We use linkedin.com/learning online tutorials to provide students with an opportunity to enhance their learning in a flexible but tailored mode of study. LinkedIn Learning has numerous courses from experts that cover subjects such as app programming to software tutorials and typography.
Apple Mac Computer Suites
The University has several computer suites that house iMacs, these are located within the University Library and in the Alfred Tennyson, Nicola de la Haye and Peter De Wint Buildings. All iMacs are equipped with Adobe Creative Cloud and Microsoft software.
In addition, our design studios have additional desktop computers with software relevant to specific design programmes. WiFi is available throughout the University campus.
MakerLab Workshops
The MakerLab is a specialist facility for working with ceramics, glass and precious metals. The MakerLab comprises two small fusing kilns, a large flat-bed kiln, finishing machines, grinders, polishers, belt linishers and glass drilling equipment. There is also a large top loader for glass casting with a comprehensive programmer for long and complex annealing schedules.
Equipment for fine metalwork includes jewellery bench places, a variety of hand tools, bench tools, guillotines, a Durston rolling mill, hydraulic press and a comprehensive collection of forming stakes. There are three Sievert torches, an enamelling kiln and burnout kiln.
Facilities are available for hand-building clay forms alongside four ceramic kilns, all of which have computerised programmers.
The Maker Lab has equipment available for laser cutting, heat press and sublimation printing, and book binding.
Multi-materials Workshops
The multi-materials workshops contain an array of machinery and hand tools for the cutting, shaping and general fabrication of woods and metals. Students can use these facilities to work on artworks, artefacts, architectural models and furniture products.
Laser cutting machines are available to work with a range of materials from fine papers and card through to soft and hard woods, veneers, acrylic plastic, leather, fabrics, MDF, plywood, chocolate and stencil plastics. Students may also benefit from the capabilities of our flat-bed CNC router. Equipment is available for engraving glass, metals, ceramics and stone.
The rapid prototyping area is equipped with manufacturing 3D printers which are used to create 3D CAD models. This process allows one-off production of parts with complex geometry in a matter of hours.
Spaces are available to book all year round using the online booking system. Please note that users are required to undertake inductions to use the facilities in the multi-materials workshops. Technicians are available to support and supervise students, and tutorials on using equipment are also available through Lynda.com.
Photography Studio and Workshops
The photography studios are fully fitted with electronic LED flash lighting, wet film processing, darkrooms and a digital video edit suite. Students have access to a range of camera formats and computer suites.
The photography studios are utilised for a wide range of projects from individual and group portraiture, to product shoots and occasionally live action/slow motion capture.
Students can also benefit from the Lincoln School of Film and Media's expertise and facilities in sound design and digital film production.
Printmaking Studios
The printmaking studios provide facilities for traditional and contemporary printmaking processes. The studios cater for a comprehensive range of techniques including screen printing, relief printing, and monotype and letterpress.
Introductory and in-depth workshops are offered to students to give an overview of processes, as well as specific knowledge and skills in printing techniques. Technical expertise is available to support and supervise students when required.
Sculpture and 3D Workshop
Our Sculpture and 3D workshop allows mold making and casting in a variety of materials from plaster and wax to specialist silicone rubbers and epoxy resins.
Our experienced technicians can guide students through many processes such as how to carry out life casting, making work directly from the body, or woodwork and clay for making masters, prototypes or even finished pieces.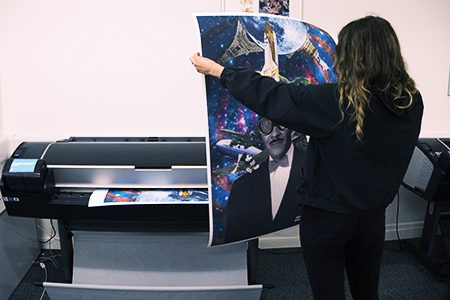 Specialist Printing
In addition to the printmaking studios, a range of specialist and large format printers are housed in the Peter de Wint Building. Students can print on a range of specialist papers up to A0+ size, as well as using the large format, hi-resolution, scanning, vinyl cutting and Risograph printing facilities.
Technical Team
The College of Arts' technical facilities are managed by a team of more than 30 highly experienced technical experts. Many of the team are practising artists, designers and makers, with years of relevant knowledge and a passion for supporting students' learning.